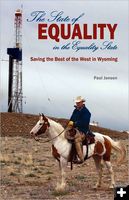 Book Cover

"The State of Equality in the Equality State" is a new book by Daniel author Paul Jensen, released in November, 2009. This is the second book by the author.


Local author Paul Jensen releases new book
'The State of Equality in the Equality State: Saving the Best of the West in Wyoming'
by Paul Jensen media release
November 11, 2009

"New book debunks Wyoming's myth of equality and other claims. Then reveals the real Wyoming and its promising future."

In his second book, The State of Equality in the Equality State: Saving the Best of the West in Wyoming, Paul Jensen, the book's author, says, "Despite Wyoming's longstanding claim of equal rights, for past 140 years Wyoming women have struggled to reach equality. For example, the Census Bureau's most recent data on median income shows that Wyoming's full-time working women earn only sixty-seven cents for every dollar earned by a man. For a neighborly comparison, a full time working woman in Colorado earns eighty cents for every dollar earned by a man."

Beginning with the suffrage debate in late 1869, Jensen takes us on an over century long journey through Wyoming history and its persistent treatment of women as second class citizens.

His analysis also underscores the discrimination also faced by blacks, Indians, and other minorities.

In another chapter, Old Timers and Newcomers, Jensen takes on another longstanding myth that "native" Wyomingites have a more special claim to state citizenship than a "newcomer." He points out that Wyoming was settled by people who came from someplace else whether it was another territory, state, or country. Otherwise the state would never have been settled or achieved statehood.

Today, only 43 percent of Wyoming citizens were born in the state and that compares to the 56 percent of all Americans who were born in their state of residence. Immigrants also account for 60 percent of Wyoming's recent population growth.

But Jensen reveals the real Wyoming: an open landscape of great beauty and vast natural resources where the natural environment is exploited as a place rather than primarily as a source of raw materials.

In the chapter, Are the Times A Changing, he details the emergence of a new and more sustainable Wyoming economy. Jensen says, "conventional wisdom places the energy industry at the center of Wyoming's economy. However, when you analyze the industries or sectors that account for most of the income of Wyoming workers a completely different picture emerges. Non-labor income, including dividends, interest, rent, and retirement savings accounts for close to $10 billion or forty percent of Wyoming's total income.

For purposes of comparison, mining or the energy industry accounts for $3.1 billion or 12.5 percent of personal income and even civilian government – federal, state, and local government combined – accounts for $3.7 billion in earnings.

Jensen sees Wyoming at a crossroads of a new age filled with promising opportunities. He shows whether it is open spaces, big vistas, wildlife, rivers, streams, grassland, and even the cultural appeal of the Cowboy State, ranches hold the key to the door of the future."

He emphasizes that the major players in the new economy are the communities that have staying power, new immigrants, and the potential for innovation. Those communities encompass ranchers, retirees, traditional tourists, cultural tourists, investors, property owners, amenity immigrants, and the technical support such as telecommunications, finance, insurance, real estate, and computers that make all those earning's possible. Jensen calls this combination of industries, income, and services Cowboy Economics Redux.

The book ends with A Survivors Guide offering humorous tips to newcomers and old timers alike.

The State of Equality in the Equality State: Saving the Best of the West in Wyoming has been published by Pronghorn Press located in Greybull, Wyoming, and is one of Wyoming's most notable commercial presses. Annette Chaudet is the owner and publisher. The soft cover book is 252 pages. Paperback, $19.95 plus sales tax and shipping. Pronghorn Press also published Jensen's first book, Hard and Noble Lives: A Living Tradition of Cowboys and Ranchers in Wyoming's Hoback Basin. For an advanced reading copy, interview, book order, or other information contact Paul Jensen, at pjensen1@wyoming.com or write to Paul Jensen, P.O. Box 216, Daniel, Wyoming 83115.

Paul Jensen resides in ranch country near Daniel, Wyoming where he moved over six years ago from Washington, D.C. He traded in a 30-year career in national politics and business for a life-long dream of living and working as a cowboy in the West. Since arriving in Wyoming, Paul has worked as a cowboy, substitute teacher, a ski-lift operator and most recently as Executive Director of Rendezvous Pointe, a senior and community center in Sublette County. He lives and enjoys his life with his wife, Sherrill, a middle school English teacher, and eleven-year old daughter, Lily.