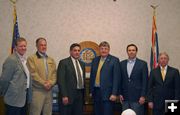 REX Officials

Wyoming Governor Dave Freudenthal with REX officials. Left-to-right: Sempra Pipelines Head of Government Relations Ian Stewart, Project Environmental Engineer and University of Wyoming graduate Ryan Childs, Kinder Morgan Director Community Relations Allen Fore, Gov. Dave Freudenthal (D-WY), REX President Doug Walker and Mark Doelger who was chairman of the Wyoming Pipeline Authority for the two previous terms ending March 2009.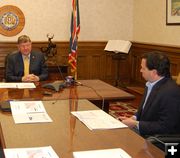 Press Conference

Description: Gov. Freudenthal speaks with REX President Doug Walker during the press conference Tuesday afternoon.


Governor Freudenthal congratulates Rockies Express Pipeline for full service
by Governor Freudenthal's office
November 17, 2009

CHEYENNE – Gov. Dave Freudenthal hosted representatives from the Rockies Express (REX) Pipeline to mark full service of the 1,679 mile pipeline, which runs from northwestern Colorado to eastern Ohio.

REX President Doug Walker said the pipeline was helping to increase the price of Wyoming natural gas because there is now enough capacity to bring the gas to new markets. The pipeline is, in turn, helping those markets by reducing prices when the additional supply is introduced.

Kinder Morgan Director of Community Relations Allen Fore said the pipeline is helping to heat four million homes. REX is a joint venture of Kinder Morgan, which owns half the undertaking, and Sempra Pipelines and Conoco Philips, both of which own a quarter of the venture.

The pipeline mainly feeds into other downstream systems, which help bring Wyoming gas to homes and businesses in the Midwest, Chicago and Ohio markets, Walker said. It became fully operational, with gas delivery available to all contractual customer, Thursday, Nov. 12.