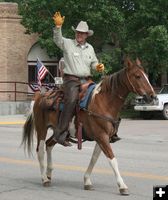 Greg Clark

Greg Clark in the Big Piney Chuckwagon Days Parade in July, 2009. Photo by Dawn Ballou, Pinedale Online!


Bridger-Teton bids farewell to District Ranger Greg Clark
Big Piney Ranger District
by Bridger-Teton National Forest
November 29, 2009

BIG PINEY – In just over a month, the employees of the Bridger-Teton will say good-bye to Big Piney District Ranger Greg Clark, as he retires after more than 31-years with the United States Forest Service. Clark has long been a fixture on the Bridger-Teton, serving more than 22 years of his career as the District Ranger stationed in Big Piney, Wyoming. Clark began working on the Bridger-Teton in October of 1987 and has been a member of the community of Big Piney since then.

Clark saw a modification in the management of the Bridger-Teton throughout his tenure as District Ranger. Through his 20-plus years, the Forest began to shift from a more grazing-centered and timber producing Forest to one of recreation and he saw a strong emphasis placed on Wilderness areas and back-country use. Clark was part of many of the vegetation projects that were necessary to improve the health of the Forest, and worked closely with Bridger-Teton leadership as the Forest defined its oil and gas drilling availability decisions. Clark was also part of developing the very first Forest Plan for the Bridger-Teton, which was completed and implemented in 1990.

Becoming a District Ranger was always Clark's goal. 'I have loved being in the field and working on the ground level," said Clark. Building relationships with the Forest users was part of the allure of the District Ranger position. "I have always enjoyed working with leadership to make the changes on the ground that the Forest users wanted to see," he said. About 23-years ago when Clark was applying for Ranger positions, he tossed in an application for the Big Piney position merely because it had a vacancy. At the time, he did not realize what a good decision it would be for him and his family. "The folks fit", said Clark when talking about the community of Big Piney. "I got used to it and I grew old with it," he said. "The Bridger-Teton is the best Forest to work on in the nation and the community of Big Piney was exactly right", he mused. "I love all that this area offers me in terms of the people, the hunting, the fishing, and the snowmobiling," said Clark. "I like doing all those things and plan on continuing to do them right in to my retirement," he said.

Clark has two children, Kristen and Mitchell, who were both raised and attended school from kindergarten through High School in Big Piney. Clark's wife, Kathy is a schoolteacher in Big Piney.

Clark also worked for the Forest Service in Mississippi, South Carolina, Nevada, and California. Some of the positions Clark held in other Forest Service jobs included Operations Research Analyst, Computer Specialist, and Timber Management Assistant. Additionally, Clark worked as an Urban Forester in Florida.

Clark was born in Detroit, Michigan and attended the University of Michigan and Michigan State University where he obtained degrees in Forest Management and Business Management.

A retirement party is scheduled for January 23, 2010 in Big Piney, Wyoming. For more information, contact Bridger-Teton National Forest Public Affairs Officer Mary Cernicek at 307-739-5564.