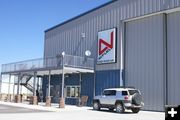 Wind River Air

This is the entrance to the new hangar and Wind River Air, as seen from the runway entrance.


Marbleton-Big Piney Airport
by Cat Urbigkit, Pinedale Online!
September 14, 2009

The Marbleton-Big Piney Airport now hosts a beautiful new
hangar, which is currently managed by Wind River Air, with
Joe Strouse as the fixed base operator.

Services available through Wind River Air include:
• Airport management
• Aviation fuel
• Aircraft parking (ramp or tiedown)
• Hangars
• Hangar leasing / sales
• Passenger terminal and lounge
• Flight training
• Aircraft charters
• Aircraft maintenance
• Aircraft cleaning / washing / detailing

FBO Joe Strouse is anxious to meet the needs of anyone who would like to use the airport and his services. From private meeting room rental, catered events, scenic flights, and flight training, give Wind River Air a call at 307-276-4299, or email Joe at windriverair@wyoming.com.