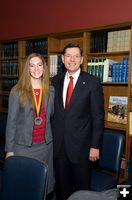 Anna Shafer-John Barrasso

U.S. Senator John Barrasso (R- Wyo.) congratulates Anna Shafer, 18, of Big Piney Wyoming for one of the winners of the Wyoming's 2009 Spirit of Community Award as a top student volunteer for outstanding service to her community. Courtesy photo from Senator Barrasso's office.


Wyoming's Top Youth Volunteers in D.C.
Anna Shafer of Big Piney honored
by Senator Barrasso's office
May 12, 2009

(Washington, D.C.) – U.S. Senator John Barrasso (R- Wyo.) congratulated Wyoming's top student volunteers for outstanding service to their communities. Anna Shafer, 18, of Big Piney, and Morgan Mariner, 13, of Douglas, were named Wyoming's 2009 Spirit of Community Award winners.

"I commend Anna and Morgan for their initiative and for the positive impact they have had on the lives of others," said Barrasso. "These young leaders are inspiring examples to all. They are among our brightest hopes for Wyoming's future."

The two students joined the top youth volunteers from each state in Washington, D.C. this week. They attended a gala award ceremony at the Smithsonian's National Museum of Natural History, where they received awards in recognition for their exceptional volunteer work.

"Morgan is ranked as one of the nation's top ten youth volunteers. She has led an impressive campaign to stop bullying in schools and gives speeches at elementary schools, 4-H gatherings, student council sessions, PTA and city council meetings," Barrasso said.

"Anna began an ambitious effort to send cookies at Christmas every year to service men and women serving overseas. She recruited volunteers to help make and package the cookies, and found a corporate sponsor to pay for shipping. Anna also leads a yearly drive for the local food pantry," Barrasso said.

Nearly 20,000 young Americans applied for the Spirit of Community Awards this year.