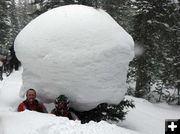 Gary Neely

Gary Neely, left, was recognized recently by Polaris as a member of the Polaris Dealer Advisory Council. Gary owns Bucky's Outdoors in Pinedale. This photo was taken in April, 2008 during a snowmobile trip up Horse Creek in the Wyoming Range. Dave Lankford is to the right of Gary. Both men are standing. Photo by Van Huffman. Click on this link for more on the story of this snowmobile trip.


Polaris Dealer Advisory Council members recognized as 'MVPs'
Gary Neely one of 17 dealers recognized by Polaris
by Polaris Industries Inc
May 27, 2009

Polaris Industries Inc. recognized 17 dealers from across the United States and Canada for their invaluable contributions as members of the Polaris Dealer Advisory Council. The Advisory Council aids Polaris management in development of effective support and training programs to continuously improve the collective business of Polaris and the broader North American Polaris dealer network. The Advisory Council work is focused upon OEM and dealership process improvements for service, warranty, orders, and retail selling practices – and upon advising management with our various Polaris product lines (Off-Road Vehicles, Snowmobiles, Parts, Garments, and Accessories).

"I am very thankful for the significant impact the Polaris Dealer Advisory Council has had in helping Polaris improve our systems and processes," said Mike Jonikas, Vice President, Sales and Marketing, Polaris Industries. "It is important for Polaris and our dealer partners to work together, and in this challenging economic environment working together is more important than ever. We rely on the leadership of the Advisory Council and as a result, we want to publicly recognize these dealer leaders for their tireless advocacy."

The dealer leaders serving on the Polaris Dealer Advisory Council are:

• Bill Abshier, Bakersfield, CA
• Amanda Blackstone, Lawrenceville, GA
• Greg Booth, Usbridge, ON
• David Burgess, Lansing, MI
• Irv Fosaaen, Waukon, IA
• Don Galloway, Edmonton, AB
• Mike Getz, Pennsdale, PA
• Rob Gregory, Jacksonville, AZ
• Leon "Butch" Greenwood, East Randolph, VT
• Bob Jones, Washington, MO
• Jeff Lampe, Kissimmee, FL
• Michel Lemieux, St. Jerome, PQ
• Jeff Mies, Watkins, MN
• Dixie Miller, Mechanicsburg, PA
• Gary Neely, Pinedale, WY
• Reggie Sellers, Boise, ID
• Robert Sistrunk, San Antonio, TX

About Polaris
With annual 2008 sales of $1.9 billion, Polaris designs, engineers, manufactures and markets off-road vehicles (ORVs), including all-terrain vehicles (ATVs) and the Polaris RANGER™, snowmobiles and Victory motorcycles for recreational and utility use. Polaris is a recognized leader in the snowmobile industry, and one of the largest manufacturers of ORVs in the world. Victory motorcycles, established in 1998 and representing the first all-new American-made motorcycle from a major company in nearly 60 years are rapidly making impressive in-roads into the cruiser and touring motorcycle marketplace. Polaris also enhances the riding experience with a complete line of Pure Polaris apparel, accessories and parts, available at Polaris dealerships. Polaris Industries Inc. trades on the New York Stock Exchange under the symbol "PII," and the Company is included in the S&P Small-Cap 600 stock price index.

Information about the complete line of Polaris products, apparel and vehicle accessories, is available from authorized Polaris dealers or anytime from the Polaris homepage at www.polarisindustries.com.