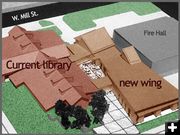 New Library Addition

Sublette County Library will host their Grand Opening for the new addition on SUNDAY, MAY 31st. Architectural rendering by Carney Architects.


Pinedale Library Addition Grand Opening May 31
Fun things to do all week May 31 – June 6th
by Sublette County Library
May 27, 2009

You'll be amazed at what the Sublette County Library has planned for the Grand Opening of their new addition the week of May 31 – June 6th. All events are free! Mark your calendars now!

Click here for a printable Schedule of Events (PDF)

SUNDAY, MAY 31ST - OPEN HOUSE
Sunday, May 31st will be a very big day for the library—please join us in celebrating the opening of our newly expanded facility. The Ribbon Cutting Ceremony with Ruth Noble and Opening Speeches will begin at 12:30 pm. There will be great food and great music! Byron Tomingas, noted classic guitarist, will provide acoustical entertainment.

The new addition features green building techniques and houses a larger public meeting room, a Western Americana Room, and more public access computers. Renovations on the main building have created cozy new youth and teen library spaces that sport a comfortable new reading room for younger patrons.

At 1:30 pm Meet the Architects, Designers & Builders. Panel Discussion: Building Green An informal session with Carney Architects, Fixter Construction Company, and Sirewall Inc. Open to everyone. According to Matt Thackay of Carney Architects, the library's new addition is the first public project in the country to feature SIREWALL technology insulating rammed earth walls.

EVERYONE IS A CELEBRITY
(Wyoming's House District #22 Representative Jim Roscoe)

You can make your own READ posters during the Library's Opening Festivities.

MONDAY, JUNE 1ST – GREEN DAY
Pinedale's Third Graders' Town Planning Project will be on display.
There will be a presentation of environmental books from the Jonah Interagency Mitigation & Reclamation Office.

Additionally, Rocky Mountain Power (RMP) will talk about their Blue Skies Project, funding that supports community-based renewable energy projects across the company's service area, increasing the generation of electricity from sources such as wind and solar energy. RMP granted the library $20,000 to pay for the photovoltaic system on the south side of the Library.

WEDNESDAY, JUNE 3ND – GENEALOGY DAY Explore Sublette County Library's Ancestery.com and Heritage Quest Genealogy Databases at 10 am, noon, 2pm or 4 pm. This collaboration between the Sublette County Library, Teton County Library and the Family History Specialists from the Church of Jesus Christ of Latter Day Saints will demonstrate search techniques for Heritage Quest and Ancestry.com genealogy databases.

The LibraryEdition of Ancestry.com collection has approximately 4,000 databases including key collections such as U.S. Federal Census images and indexes from 1790 to 1930; the Map Center containing more than 1,000 historical maps; American Genealogical Biographical Index (over 200 volumes); Daughters of the American Revolution Lineage (over 150 volumes); The Great Migration Begins: Immigrants to New England, 1620-1630; Social Security Death Index (updated monthly); WWI Draft Registration Cards; Federal Slave Narratives; and a strong Civil War collection. HeritageQuest provides a unique, growing collection of research materials for tracing family history and American culture.

7:00 pm Reading Comes to Pinedale with Ann Chambers Noble. The author of "Pinedale, Wyoming: A Centennial History, 1904 - 2004" will speak about historic Pinedale.

FRIDAY, JUNE 5TH 7:00pm
Labyrinth Dedication in memory of Gayle McMurry Kinnison with Labyrinth expert Taffy Lanser as guest speaker.

Although the labyrinth was the desire and inspiration of Sublette County Library Director Daphne Platts, she's delighted to support the idea of dedicating it to Gayle and the good work she did in our community. Gayle was an exceptional philanthropist who gave crucial and continuing support to keep innumerable organizations in the region alive and flourishing.

"This Labyrinth as an extension of Gayle's works, a place to find peace or comfort, and we are honored to be able to dedicate it to her name", said Platts.

What is a labyrinth? Labyrinths are ancient designs found in many cultures around the world. A labyrinth is not designed to confuse or bewilder. There are no blind alleys, no wrong turns and you cannot get lost in it. All you have to do is put one foot in front of the other and you will safely get to the center and back out again. Our labyrinth is located in the new wing of the Sublette County Library and is designed after the labyrinth on the floor of Chartres Cathedral in France.

How is the labyrinth used? People walk the labyrinth for many reasons. Some do it to relax, some as a walking meditation, some just for fun. There is no right or wrong way to walk the labyrinth.

SATURDAY, JUNE 6th
CHILDREN AND YOUNG ADULT CELEBRATION and SIGN UP FOR SUMMER READING 3:00-5:00 pm

Our favorite clown, Dee Anna Banana will be teaching kids how to make their own balloon animals. Join us for cake and punch.

Teens can challenge their friends and family members with our new Wii games. Get refueled with pizza and pop.

SATURDAY , May 30, 2009 – LIBRARY CLOSURE
In order to prepare for the Grand Opening the Library will be closed on Saturday, May 30, 2009.

OUR NEW MEETING ROOMS ARE NOW AVAILABLE –
Please call the front desk to reserve your space 307-367-4114. A Meeting Room Policy must now be signed prior to your meeting. They are available on line or simply stop by the front desk.

BOOKS AREN'T THE ONLY THING YOU CAN CHECK OUT @ YOUR LIBRARY
Need folding tables for your next yard sale? A power point projector for your presentation? Wii games for your teen's party? A Kindle, Amazon's wireless reading device? You can now check any of these items out, free of charge, with your Sublette County Library card.

The Sublette County Library Foundation, Inc. is dedicated to the financial support and assistance of the public libraries of Sublette County, Wyoming. It provides capital improvements, furnishings and programming for the libraries in Pinedale and Big Piney.
____________________________________________

Building A Legacy With SIREWALLS: Sublette County Library Addition Is A Gift For Generations to Come
By SIREWALL / Terra Firma Builders

This Sunday, May 31st, the ribbon will be cut, cake will be served and a celebration will begin for the new addition to the Sublette County Library. But this party will go on, since the addition will blend beautifully into its natural surroundings and become a gift for generations to come. Phase II of the Library includes insulated rammed earth wall features. The Library's SIREWALLS are a new global standard for durable, healthy, energy efficient buildings that are stunning legacies for the community.

Meror Krayenhoff, Founder of SIREWALL and Terra Firma Builders who resides in British Columbia, Canada, abandoned current building practices and took lessons from ancient civilizations to create SIREWALL. Stabilized, Insulated Rammed Earth, SIREWALL, is typically 18" to 24" thick, stabilized with rebar and has 4" of rigid insulation hidden in the centre of the wall. These eye-catching walls have the strength and beauty of sedimentary sandstone inside and out, with hidden insulation in between. SIREWALLS have a distinctive, visceral connection to the earth that are not only attractive focal points, they are solid foundations with thermal mass and efficiency beyond any other type of wall.

SIREWALL Project Manager Joss Krayenhoff worked with Carney Architects under extreme cold (minus 25F) and built with a team of enthusiastic local laborers for this, the first commercial SIREWALL project constructed in the United States. The results, according to the Library's architects, are exceptional:
"When we set out to do rammed earth for this important public building in Pinedale, we knew there was no room for experimental or exotic construction, or any system whose performance we could not count on… It [SIREWALL] has succeeded beyond our best expectations and has become the talk of the town…" John Carney, Founding Principal of Carney Architects.

SIREWALL creates beautiful buildings that nourish our bodies instead of polluting them and stand the test of time as a legacy for future generations. With its ecological and health benefits, combined with beauty and durability, SIREWALLS are ideal for commercial buildings and residential homes that will create a lasting legacy.




Related Links