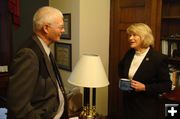 Bousman and Lummis

County Commissioner Joel Bousman visits with Rep. Cynthia Lummis in her Washington, D.C. office following a subcommittee hearing on May 5th on the "Northern Rockies Ecosystem Protection Act."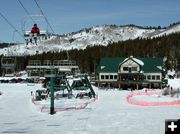 White Pine Ski Area Gone?

Under NREPA H.R. 980, White Pine Ski Area Resort, lifts, cabins, and all facilities would have to be removed from the newly-expanded Bridger-Teton Wilderness. Pinedale Online photo.


Proponents of the Northern Rockies Ecosystem Protection Act (NREPA H.R. 980) say one of the benefits of the legislation is that jobs would be created for people to remove roads and facilities that no longer belong in the newly created wilderness areas.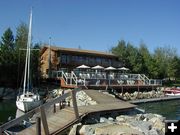 No more Lakeside Lodge?

Lakeside Lodge, on the shore of Fremont Lake 4 miles from Pinedale, operates under a Forest Service on land that is proposed for wilderness under H.R.980 Northern Rockies Ecosystem Protection Act. Under NREPA, this facility would have to be removed because it doesn't belong in areas designated as wilderness. Pinedale Online photo.


Lummis to East Coast Politicians: Donít Mess With the West
Wyoming Congressman Opposed to Massive Wilderness Bill (H.R. 980-NREPA)
by U.S. Representative Cynthia Lummis media release
May 6, 2009

(Washington D.C.) Ė U.S. Representative Cynthia Lummis, R-Wyo., is fighting against efforts by east coast politicians and extreme environmentalists to lock up more than 24 million acres of land in Wyoming, Montana, Idaho, Oregon and Washington.

Lummis, a member of the House Subcommittee on National Parks, Forests and Public Lands, railed against H.R. 980, the "Northern Rockies Ecosystem Protection Act" (NREPA), today during a subcommittee hearing on the bill. Sublette County Commissioner Joel Bousman testified at the hearing, joining Rep. Lummis in opposing the bill.

"This recycled bill has been reintroduced every Congress for nearly two decades, never once passing the House or Senate," Lummis said. "Not one member of Congress whose district is impacted by this bill is currently a cosponsor of the legislation. More importantly, I donít know of one locally elected official, municipality, or even public land manager in Wyoming who has been approached by the sponsors of this legislation to seek their input, discuss the billís sweeping impacts, or find ways to work together."

"Perhaps the worst aspect of this legislation has as much to do with the approach of this legislation as it does with the content. Any legislator worth his or her salt knows that good policy making comes from the ground up. The most basic governing principle upon which our nation was founded is: Ďby the people, for the people.í The sponsors of H.R. 980 have either forgotten this edict or have simply chosen to ignore it."

H.R. 980 would set aside roughly 24 million acres of lands in Wyoming, Idaho, Montana, Oregon, and Washington, as either units of the wilderness preservation system or as newly established areas called "Biological Connecting Corridors."

Another less known but equally troubling section of the bill would create new federal reserved water rights that would preclude future development upstream of any Wilderness area created in the legislation. Not only are these federal reserved water right provisions in the bill ripe for numerous lawsuits from impacted states, they are in fact inconsistent with the language of the original Wilderness Act itself. That statute specifically states that nothing in the act should be taken to imply the federal government is exempt from State water laws.

The legislation also creates a National Wildland Restoration and Recovery System to "return" an additional one million acres of lands Ė including approximately 70,000 acres in the Bridger Teton National Forest Ė into lands suitable for future wilderness designation. These are already roaded lands, with approved activities bringing significant economic benefits to local western communities.

A recent economic analysis provided by Sublette County on the impacts of H.R. 980 finds that a total of 2,545 jobs in Sublette County could be affected. Lincoln County could have as many as1,679 jobs affected. In total, this proposal would have some impact on 4,224 jobs within a two-county area, with a current revenue stream to those counties of more than $1.2 billion.

"Those of us in Wyoming are proud of the way our state has helped manage and protect our public lands and resources," Lummis continued. "Good stewardship of the land is a Wyoming value. As a rancher by trade, I hold that ideal in the highest regard. This bill takes the opposite approach to land management in Wyoming and portions of four other western states by locking up these lands from the vast majority of responsible, shared uses."




Related Links