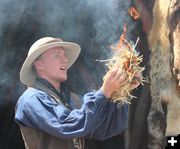 Making Fire

Tony Powell demonstrates how to make fire using flint and steel.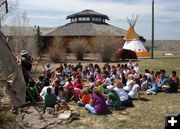 Indian Flute

Cody "Plenty Lost" Merchant plays an Indian flute for a large group of kids.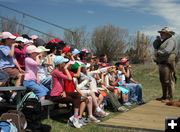 Sign language

Mike "Silver Hawk" Powell shows the sign for speak during a sign language demonstration.


Living History Days May 19-21
The American Mountain Men at the Museum of the Mountain Man in Pinedale
by Pinedale Online!
May 19, 2009

Living History Days is an annual program held each May at the Museum of the Mountain Man in Pinedale. This year's program takes place May 19-21. Elementary school children and adults come from across western Wyoming to participate in this unique educational program filled with live presentations and demonstrations by members of the American Mountain Men organization. The public is also invited and encouraged to attend the sessions.

The American Mountain Men organization was formed in 1973 by a group of mountain man enthusiasts who wanted to learn the life of mountain men by living it. They all have regular jobs, but live and learn the mountain man ways as a hobby by recreating the lifestyle of the hardy men who lived and worked in the Rocky Mountains between 1820-1840. The American Mountain Men have been strong supporters of the Museum of the Mountain Man for many years and members come up regularly, often volunteering their time and traveling from other states, to participate and help with Museum educational programs.

Photos by Clint Gilchrist, Pinedale Online!