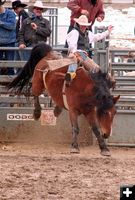 Austin Doyle

Austin Doyle of Big Piney was entered in the bareback riding in Rock Springs. The weather made for slippery wet conditions in the rough stock arena. Photo by Carie Whitman.




Team Roping

Heeler Zac Nenna of Big Piney and Tayler Holmes of Jackson are shown here in the Team Roping event at the High School Rodeo held in Rock Springs. Photo by Carie Whitman.


High School Rodeo
Rock Springs High School Rodeo
by Carie Whitman
May 2, 2009

The Rock Springs High School Rodeo was held at the Sweetwater Events Complex April 25th & 26th. Big Piney, Pinedale and LaBarge were all represented by some great cowgirls and cowboys.

Brittney Keiter had rodeo on her mind, and ended up fourth in the barrel racing on Sunday. There were 46 barrel racers from around the state each day competing for points and money. Shyla Hill also ran barrels both days with consistent times. Both girls spend their spare time keeping their horses in shape and ready for the next rodeo.

Amber Robinson of Pinedale was a very busy all-around cowgirl competing in the barrels, goat tying, pole bending and break away roping. Amber has been training on a young barrel horse so she experienced some bad luck this weekend, but we all know Amber and things will change as the season progresses. She also spends her time working her performance horses and looking forward to the next rodeo.

Zac Nenna competed in the team roping both days this weekend. Zac usually ropes a calf in the calf roping, but he admitted he just flat out forgot to enter!

As for the rough stock riders, bareback rider, Austin Doyle, and bull riders, Brady Headrick, Ryan Knapp and Dalton Lantz, had their events held in the outdoor arena in Rock Springs and letís just say it was a little cold and very muddy!

This group of Sublette County High School Rodeo contestants and their parent will be hosting a High School Rodeo in Big Piney at the Ag Center on May 30 and 31.