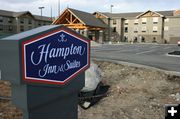 Hampton Inn

Pinedale's newest hotel is located on the west end of town on the north side of US 191.

Hampton Inn to open May 15
Pinedale's newest hotel
May 6, 2009
The official opening of the new Hampton Inn and Suites in Pinedale will be on Friday, May 15th at 9:00 am. Everyone is invited, and light refreshments will be served. The new three-story hotel is located at 55 Bloomfield Avenue, on the north side of US 191 on the west end of town.

The Hampton Inn & Suites offers 102 guestrooms and suites in Pinedale's newest hotel. The three-story complex is located on the west end of Pinedale, just west of the Stromness Building (BLM building) on the north side of US. 191.

The hotel has clean, fresh, comfortable rooms standard with coffee maker, iron with ironing board and free in-room movie channel. Enjoy free local calls and no surcharge for using a calling card, complimentary wired and wireless high-speed internet access, complimentary On the House hot breakfast, complimentary copies of USA Today Monday through Friday, free coffee and tea in the lobby 24 hours a day and 24-hour front desk message and fax service. No pets are allowed.

Their hot breakfast is available from 6:00am to 10:00am daily. They have a heated indoor swimming pool and Whirlpool spa, state-of-the-art complete fitness center, complimentary parking with cold weather plugs, and accessible guestrooms. Their have a 24-hour Suite Shop and 24-hour business cente. Facilities also include flexible meeting space to accommodate corporate and social meeting and events.

Their phone number is 307-367-6700, Fax: 307-367-8883.

Visit them on the web and book a room online at http://www.pinedalesuites.hamptoninn.com.