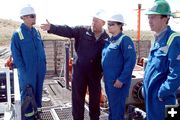 Jonah Field Tour

EPA Administrator Lisa Jackson tours a natural gas rig operated by EnCana in southwest Wyoming's Jonah Field near Pinedale, on Thursday, May 21. Photo courtesy Governor Freudenthal's office.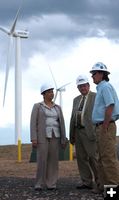 Wyoming Wind Farm

Administrator Jackson toured a wind farm near Cheyenne. Photo courtesy Governor Freudenthal's office.


EPA Administrator Jackson visits Jonah Field
Wraps up two-day tour of Wyoming energy production sites
by Governor Freudenthal's office
May 21, 2009

U.S. EPA Administrator Lisa P. Jackson and Gov. Dave Freudenthal today (Thursday, May 21, 2009) concluded a two-day tour of several major energy production regions in Wyoming.

Gov. Freudenthal invited the Administrator to visit Wyoming and see first-hand the production of traditional and renewable energy resources.

Wyoming is currently the nation's largest net exporter of energy. The state also has some of the best wind energy potential in North America, with highly-rated wind production areas stretching from the western border with Utah to the state's eastern plains.

Administrator Jackson toured a wind farm near Cheyenne, a coal mine near Gillette and a natural gas field near Pinedale. She said the site visits illustrated the importance of domestic energy production and its role in not only decreasing our dependence on foreign oil, but also in driving America's economic recovery. All of these goals can be achieved while also protecting human health and the environment, Jackson said.

"Wyoming is a place where economic possibilities, environmental and human health concerns, and the pursuit of energy independence all come together," Administrator Jackson said. "As a home of wind, coal, and natural gas, Wyoming is at the heart of America's energy future. Gov. Freudenthal and his staff were gracious in inviting me here and I enjoyed our healthy dialogue about the opportunities possible in energy production that do not forsake our environmental responsibilities."

"I appreciate the Administrator's willingness to take time to visit our state and see on the ground how coal, natural gas and wind are produced here," Gov. Freudenthal said. "This was an important opportunity for us to discuss issues including carbon sequestration, the management of water produced in coal-bed methane development and the technologies used to recover natural gas in unconventional fields in Wyoming."

On Wednesday, May 20, the Administrator visited a wind energy farm west of Cheyenne. The facility's 14 turbines operate at 2.1 megawatts each, contributing a total of about 30 megawatts to the local Cheyenne Light Fuel & Power electric grid.

On Thursday, May 21, the Administrator visited Wyoming's Powder River Basin in the northeast part of the state, where the majority of the nation's sub-bituminous coal is produced. Jackson toured the Black Thunder coal mine that produces 91 million tons of coal per year. Along with the neighboring North Rochelle mine, the facilities produce about 10 percent of total U.S. coal production.

Later on Thursday, the group viewed coal-bed natural gas development from the air and toured the extensive natural gas development in the Jonah Field, located 35 miles south of Pinedale in southwest Wyoming. The field is Wyoming's single largest developed unconventional natural gas field and includes reserves estimated at 10.5 trillion cubic feet of natural gas held deep underground in tight sand formations.