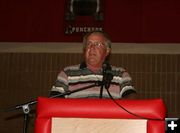 Joel Eskelsen

Former Big Piney football coach Joel Eskelsen came from Tennessee to give the Commencement Address.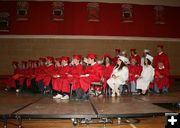 Graduates

43 Seniors graduated this year for the Big Piney Class of 2009.





Scroll down for more pictures




Big Piney High School Graduation - Class of 2009
by Dawn Ballou, Pinedale Online!
May 28, 2009

Big Piney High School held commencement services for the Class of 2009 on Tuesday, May 26th. Forty-three seniors graduated.

The Big Piney High School band played Pomp and Circumstance as graduates filed into the packed gymnasium. The Big Piney Choir sang several songs during the program. Dr. David Burnett gave the Welcome and later did the presentation of the awards. Former Big Piney football coach, Joel Eskelsen, returned to Big Piney from Tennessee to give the Commencement Address.

Valedictorian: Jackson Cowley Priddis
Salutatorian: Kailey Nicole Barlow
Class Colors: Red and Silver
Class Flowers: Columbine, Blue Rose
Class Songs: "Swing Life Away" by Rise Against, "Times Like These" by Jack Johnson
Class Motto: "If you can imagine it, you can achieve it; if you can dream it, you can become it." – William Arthur Ward

Presentation of Awards: Dr. Darcy Turner and Rich Anderson
Presentation of Seniors: William Schlepp
Presentation of Diplomas: Dr. David Burnett, Kurt Meeks

2009 Graduates
Heath Michael Anderson
Matthew Edward Armstrong
Kailey Nicole Barlow
Terry Lee Belew
Jacob Wayne Berry
Matthew Jeffery Brady
Joseph Charles Brooke
Cody Philip Chatelain
Mary Dawn Colton
Brittney Roxanna Virgina Crawford
Oscar Ramon Delgado Lopez
Joseph Aston Eiden
Clinton Jonathan Foster
Tabitha Foster
Brittney Ann Gorman
Christopher Keith Hawley
Shonda Alexandra Marla Lynn Hill
Benjamin Ryan Howard
Katie Iline Hufstetler
Jennifer Marie Jenks
Megan Marie Johnson
James Dammon Jones III
Brandy Jo Kosmann
Shawn Douglas Kozeal
Shelby Lynn Lewis
Haley Jorden Lockwood
Chelsea Marie Molitor
Alexis Moreno Gutierrez
Evan Scott Murphy
Richard Michael Murphy
Zachary Emmet Nenna
Cameron Jon Pedersen
Laurie Julin Petric
Jackson Cowley Priddis
Colt Cassidy Quintard
Loida Berenice Ruiz Duran
Michael Dean Shields
Jimmy Howell Sims
Alyssa Lynn Smith
Patrick Timothy Tolton
James Michael Tune
Cassle Faul Urbigkit
Hilary Rose Whitman

Professional photographer Tara Bolgiano, Blushing Crow Photography, took photos of graduation. Click on this link to go to her website to purchase pictures: www.blushingcrow.com (Click on "Proofing", agree to the copyright notice, then go to events to the Big Piney Graduation gallery.)

Click on this link for a printable PDF of the graduation program (4 pages, 801K PDF)

Photos by Dawn Ballou, Pinedale Online!