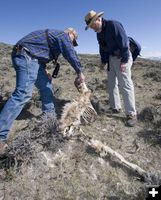 2008 Deer Mortality Survey

Volunteers investigate a winter-killed mule deer south of Pinedale at the 2008 deer mortality survey. Photo by Mark Gocke, WGFD.


Volunteers needed for Wyoming Range Deer Mortality Surveys in May
Pinedale, Daniel, LaBarge and Cokeville areas
by Wyoming Game & Fish
April 17, 2009

You can assist mule deer management, get a hands-on look at winter range habitat conditions for Wyoming's largest deer herd and get some exercise to boot by helping the Wyoming Game and Fish Department with the annual Wyoming Range Mule Deer Mortality Surveys.

According to wildlife biologist and survey coordinator Gary Fralick, there are two goals of the surveys. First is to get an indication of overall loss for the Wyoming Range Mule Deer Herd and second is to assess what age classes got hit the hardest by the winter conditions.

"Based on this survey, we can offer some predictions about what the upcoming hunting season may offer to deer hunters who hunt in the Wyoming Range, Greys River and Smiths Fork," says Fralick. "This is our 16th year of doing the mortality surveys and it has always been a successful volunteer effort for the Game and Fish. Everyone is welcome, whether they like to hike or ride horses, and we appreciate the public's help in conducting these important surveys."

Fralick anticipates below normal deer mortality on all of the major Wyoming Range winter ranges. "Unlike last year, where there was significant deer mortality on the Sage Junction, Kemmerer, and Evanston winter ranges, these areas should experience a rebound in over-winter survival of mule deer this year because of the open conditions."

"It's looking like the 2008-09 winter was generous to the Wyoming Range deer herd. The absence of deep, persistent snow and extended periods of below zero temperatures appear to have allowed higher numbers of mule deer to survive the winter. However, we all know higher over winter deer survival is likely to be a short-term phenomenon because the severe drought over the last few years has greatly reduced the amount of forage produced on the winter ranges."

The six wildlife underpasses constructed by the Wyoming Department of Transportation (WYDOT) in 2008 along U.S. Highway 30 in Nugget Canyon were also a major contributor to higher deer survival this winter.

"These underpasses allowed over 4000 deer to migrate beneath this highway without exposure to vehicle mortality," Fralick said. "A significant portion of this segment of the deer herd migrates to summer ranges in the Greys River and headwaters of LaBarge Creek and the Smiths Fork River."

On the northern Wyoming Range deer winter ranges near LaBarge and Daniel, biologists are estimating below normal winter losses. "This year's high over-winter survival should result in more deer migrating to summer ranges in the Wyoming and Salt River Mountain Ranges," Fralick said. "The open winter minimized mule deer concentrating on core winter ranges and therefore reduced the amount of browsing on shrubs that produced very little annual growth during the last year's growing season. Mule deer enthusiasts still need to remember that the lack of high-quality browse will affect deer numbers during the coming winters regardless of open, snow-free winters and the new wildlife underpasses that minimize mule deer- vehicle collisions. Healthy habitat is the key to long-term abundant wildlife including deer in the Wyoming Range."

The Cokeville surveys will run Saturday, May 2. Volunteers will meet at 9 AM at the Stateline gravel pit, three miles southwest of Sage Junction on U.S. Highway 30/89.

The Pinedale surveys will also run May 2. Volunteers meet at the Pinedale Game and Fish Office at 9 AM.

The LaBarge surveys follow the next day, Sunday, May 3. Volunteers meet at the Wyoming Department of Transportation compound in LaBarge at 9:30AM.

Volunteers must fill out a volunteer form upon their arrival in order to participate in the mortality surveys.

To sign up or receive more information, contact Gary Fralick at 1-307-883-2998. Interested persons may also call the Pinedale G&F Office at 1-800-452-9107 or Green River G&F Office at 1-800-843-8096.