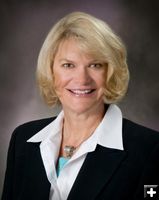 Cynthia Lummis

U.S. Representative Cynthia Lummis, R-Wyo. State of Wyoming photo.


Lummis statement on Federal budget vote
by U.S. Representative Cynthia Lummis media release
April 2, 2009

(Washington, D.C.) – U.S. Representative Cynthia Lummis, R-Wyo., a member of the House Budget Committee, issued this statement following her vote against the largest federal budget proposal in U.S. history:

"This Congress, led by the Democratic leadership, has authorized the largest budget in the history of the United States," Lummis said. "This $3.6 trillion budget spends money we don't have. The staggering spending numbers coming out of Washington are leaving Americans feeling exasperated and angry. If they have to pay more attention to what they spend and how they spend it, why isn't their government doing the same?"

"Families today are facing very difficult economic times. If we act wisely, and responsibly, we can turn things around. If we follow the path this budget lays out, we will be digging a hole so deep we may just bury the hopes and dreams of America's next generation."

"That is why I supported an alternative budget proposal that puts America back on the path to prosperity – one that cuts the deficit and government spending while keeping money in the pockets of hard working taxpayers."

Highlights of the GOP alternative budget proposal supported by Lummis include:

• Freezes non-defense/non-veterans spending, instead of increasing non-defense spending by over 9 percent as proposed in the Democrat budget;
• Brings debt under control, borrowing $3.6 trillion less than the Democrat budget over 10 years;
• Does not raise taxes. Instead of imposing $1.5 trillion in tax increases on investors, small businesses, and families as proposed in the Democrat budget, the Republican budget extends tax relief avoiding tax increases during a recession;
• Avoids scheduled tax increases in 2010 by permanently extending 2001 and 2003 tax relief;
• Permanently fixes the Alternative Minimum Tax; and,
• Creates 2.1 million more jobs than the Democrat budget.




Related Links