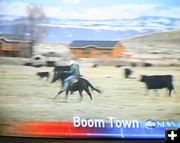 Boomtown

From ABC's World News with Charles Gibson segment featuring Pinedale and Sublette County, which aired Wednesday, April 29th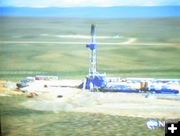 Natural Gas drilling

The natural gas industry has slowed down significantly from 6 months ago. Statewide 1300 jobs were lost in the industry in Wyoming in February and March. We do not know of any of these companies that are hiring right now (April 2009)


How do I find Jobs in Pinedale?
ABC World News program generates many job inquiries
by Dawn Ballou, Editor, Pinedale Online!
Original post April 29, 2009 | Updated May 5, 2009

The Short and Quick Answer:
We have a Job Board on our website where people advertise their Help Wanted ads with us. There is a text link to that at the top of our front page. You can find that page here: http://www.pinedaleonline.com/jobboard We update that page anytime, any day of the week, as new jobs come in, so keep checking back on that page for new listings. Press the "Shift" or "CTRL" key on your keyboard at the same time that you click the Refresh button on your browser to make sure you are seeing the most current version of that page.

You can find more online lists of current job openings and real estate listings that are advertised in our two local newspapers. These newspapers publish once a week.
Sublette Examiner newspaper classified ads: http://www.subletteexaminer.com, publishes on Tuesdays
Pinedale Roundup newspaper classified ads: http://www.pinedaleroundup.com publishes on Fridays

The Wyoming state employment service website is here: http://www.wyomingatwork.com. They make you register in order to view complete details about any job. Their data base is searchable by location and company name (for example "Haliburton"). Their nearest Job Placement office is in Rock Springs, 100 miles to the south of Pinedale. You can call them at 307-382-2747.
___________________________________
The Longer Answer:

ABC World News with Charlie Gibson hadnít even aired in Rocky Mountain time when the phones started ringing here with people asking about how to get a job in our area. Last week ABC reporter Terry McCarthy came to Wyoming with TV crews to profile the economic situation here because statistics say Sublette County, Wyoming currently has the lowest unemployment rate in the country.

We apologize we havenít been able to answer everyone who has called and e-mailed asking about jobs after seeing that program. We hope this article can help answer some of the questions you might have and get you the information you are looking for. If you still donít find the answer to your question, please e-mail us at support@pinedaleonline.com, or contact the Sublette County Chamber of Commerce at director@sublettechamber.com, 307-367-2242.

"How can I find a job in Pinedale?"
We do not have an official job placement office in our county, so there is no "one" place to go to find out about area jobs here. You can find current job openings online for free viewing on our Pinedale Online Job Board and in the classified ads of our local newspapers at the links below:
Pinedale Online Job Board
The Sublette Examiner, www.SubletteExaminer.com newspaper publishes weekly on Tuesdays.
The Pinedale Roundup, www.PinedaleRoundup.com, publishes weekly Fridays. This paper has been in Pinedale since 1904.
Both of the above newspapers sometimes have block display ads for Help Wanteds sprinkled throughout their newspaper which don't show up in the classified text section, so it if you want to get access to all their jobs and all the other information they have about their area, we encourage you to consider purchasing a subscription to get online access to their entire paper content.
Our state newspaper is the Casper Star-Tribune. You can find their classified ads online here: http://www.trib.com/admarket/
The Rock Springs newspaper is the Rocket Miner. You can check out their classified ads here: www.rocketminer.com/

I donít see any oil and gas jobs there, how can I find a job with industry?
The oil and natural gas industry typically doesnít advertise their jobs by placing ads in the newspaper classified ads or on our Job Board. Right now, that industry has seen a significant slow down from a year ago, due to the economy and lower prices for their products. In February, 500 jobs were lost in Wyoming in that industry, according to recent statistics. 800 more were lost in March. We do not know of any of the gas companies that are hiring right now due to the economic slowdown. If things pick up, we suspect they will rehire the people they let go over the past several months before they hire new people. If they advertise jobs in the local newspapers or online, youíll see those by checking the links we gave above.

I still want to try and contact the gas companies and ask about possible jobs. How can I get their contact phone numbers?
You can try calling the big companies and asking if they have any jobs available. Click on this link to get to names and phone numbers: Oil and Gas field Services. You can also check the Sublette County Chamber of Commerce website membership directory for contact names and numbers for the gas and oil industry: www.SubletteChamber.com

We often have people call and ask about jobs as welders, electricians, construction, heavy equipment operator, CDL truck driver, rig hands. The jobs we know of in these fields are advertised in the Help Wanted places we listed above. In general, the truck driver work has slowed and we donít know of anyone hiring right now for CDL jobs. Pipeline welding jobs are south of us in Lincoln County, so you can try the Rock Springs Chamber of Commerce for information about jobs 100 miles south of us, www.rockspringswyoming.net .

If we do get information about jobs for any of these fields, we will post those on our Job Board, so please keep checking back there. We update that whenever jobs come in, any time of day, any day, so things can change on our Job Board from morning to evening if new advertisements come in. Also watch our front page stories. We know you folks are looking for work and we are conscious of trying to help connect you to available jobs in our area. Sometimes weíll write a story about an opportunity even if the companies arenít buying advertising, so all we can say is keep checking. We try to keep tabs on "the pulse" to get our readers connected to the information they are looking for about our area.

What other jobs are available there besides the oil and gas industry?
Many other companies here can use help. Our "tourist season" starts in another month and runs through the summer. Local guest ranches need people to help with guests, retail stores can use counter help, motels need front desk clerks and people to clean rooms and do laundry facilities, local restaurants need waitresses and kitchen help, construction workers need builders, painters and laborers. Check out Business Directory for contact information: Businesses & Services. If they have specific jobs, they will likely have those advertised. Otherwise, you can try cold calling them and asking about jobs. If something sounds promising, be sure to ask about housing and research if you can find a place to stay and afford to live here before you come out for any job.

We want to move there. How can I get area information and have things mailed to me?
You can find a lot of information online on the various websites for our area. Our site, Pinedale Online, has a wealth of information with news archives that go back to 2004, photo galleries, calendar of events, area attractions, and links to local businesses and services.

Our Sublette County Chamber of Commerce will be happy to mail information to you. Send them your name and mailing address and let them know what information you are looking for. www.SubletteChamber.com, 307-367-2242, e-mail: director@sublettechamber.com. This Chamber covers the Pinedale and Big Piney/Marbleton areas. They can give you area information, maps, information about upcoming events, etc.

We have a county tourism board that has created a great visitor information website with a lot of area information. Go to www.mountainmancountry.com

What is area real estate like there?
You can find links to local real estate agencies and their websites with current property listings here: Sublette County real estate agencies. These companies keep their websites updated with all their current listings. You can get a good idea about housing availability and prices, land prices, and commercial opportunities available. Some of these agencies also do property management and can answer questions about rental property availability.




Related Links