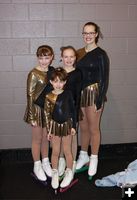 Wind River Skate Club

Pictured left to right: Shelbi Paulson, Darbie Paulson, Gillian McFarland, Hattie McKay. Photo courtesy Wind River Skate Club.


Wind River Skate Club brings home 23 medals
Jackson Hole Invitational
by Wind River Skate Club
March 18, 2009

(Pinedale) - The Wind River Skate Club traveled to Jackson, Wyoming over last weekend to compete at the sanctioned US Figure Skating's Jackson Hole Invitational.

Thirty-three entries from the Wind River Skate Club took to the ice for the spring competition held at Snow King Center Ice Arena. The annual event is for all levels of skaters around the states.

Everyone had a great time and Wind River Skate Club took home 8 Gold, 8 Silver, and 7 Bronze medals. Congratulations to all skaters for placing high in their competitions.

Pinedale's skate team, Hattie McKay, Gilly McFarland, Shelbi Paulson, and Darbie Paulson took 1st Place Gold for the Jackson Hole Team Trophy competition.

For a complete list of results for the 2009 Jackson Invitational visit www.jhfsc.org or catch their special routines Thursday, March 19, at 6:30 PM at the Sublette Ice Arena for Wind River Skate Club's 2009 Spring Show. Free admission.