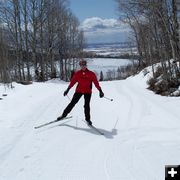 Jar Mortenson

"Mrs. M", Jar Mortenson, skating the groomed trail above Halfmoon Overlook. Photo by Bob Barrett, Pinedale Ski Education Foundation


Pinedale Nordic Ski Grooming Report, March 25
by Bob Barrett, Pinedale Ski Education Foundation
March 24, 2009

Plenty of snow remains on the trails along Skyline Drive and grooming continues there three days a week into April. A few thin spots are developing on some south-facing aspects of the trail system but the skiing is still very good on most groomed routes from Halfmoon Overlook and Kelly Park up to White Pine.

Off the groomed trail system, the daily freeze/thaw cycle of spring has started to consolidate the snowpack into a firm base for both skating and touring. Good skiing conditions can now be found on most mornings for the next several weeks on open terrain and frozen lakes.

Grooming at the CCC Pond Pathway has ended for the season.