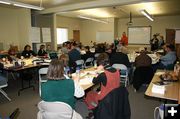 Pandemic Flu Exercise

Approximately 50 people representing health services, emergency response, government, industry and private businesses participated in the Pandemic Flu tabletop exercise on Wednesday in Pinedale.


Pandemic Flu Tabletop Exercise
Sublette County works on emergency preparedness
by Dawn Ballou, Pinedale Online!
March 5, 2009

Representatives from Sublette County medical services, Wyoming State health officials, industry and private businesses attended a tabletop exercise in Pinedale on Wednesday.

The exercise focused on community emergency preparedness and maintenance of infrastructure services using a hypothetical pandemic influenza outbreak scenario for which there is no vaccine and 40% of the workforce becomes ill or dies.

The exercise focused on infrastructure protection, providing essential services and medical supplies management. The purpose was to evaluate current systems, plans and procedures to address the ability of Sublette County to provide essential services, protect infrastructure and distribute vaccine in the event of a pandemic. The event provided an opportunity for information exchange among key entities in the community.

The key topic of the exercise was: "How will your organization/company/municipality continue to provide services during a pandemic event with 40% of your workforces unavailable?" A pandemic, a global disease outbreak, occurs when a new influenza virus emerges for which there is little or no immunity in the human population and spreads easily from person to person, quickly spreading world-wide. Such events historically occur several times each century, approximately every 30 years, according to state health officials at the workshop. "Many scientists believe it is a matter of time until the next influenza pandemic occurs. However, the timing and severity of the next pandemic cannot be predicted. Influenza pandemics occurred three times in the past century – in 1918-1919, 1957-58, and 1968-69," workshop literature stated. The cycle of a pandemic can last as long as a year and run through three waves with groups of people becoming seriously ill.

Participants for the exercise included:
Emergency responders
Communications personnel
Elected officials
Emergency Management personnel
Senior Center administrators
Businesses
Oil and gas industry representatives
Fuel and utility providers
Emergency Medical Services
Grocery store managers
County Road and Bridge personnel
Schools
Fire
Law Enforcement
Public Health
Rural Health Care District/Clinics
American Red Cross
Volunteer/Faith-based organizations
Media

Public health officials emphasize that during a global emergency people will be largely on their own to help themselves. Food, medical and fuel supplies may become very scarce in some communities and key services may be severely handicapped due to personnel and supply shortages. The public is encouraged to look at the needs of their own household and stock up on basic emergency sustenance supplies now when no emergency exists. Lists of suggested supplies and steps are available at the links at the end of this article.

The workshop was the third in a series of preparedness exercises sponsored by Sublette County Public Health, Sublette County Pandemic Influenza Taskforce and Wyoming Department of Health.




Related Links