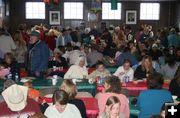 Full House

Last year's Aniel Daniel Chili Cook-off was standing room only.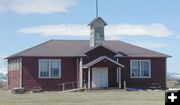 Historic Daniel Schoolhouse

The Daniel Schoolhouse was built in 1920. Today it serves as the town's community center. Funds raised from the chili cook-off help do maintenance and upkeep on this historic building.


28th Aniel Daniel Chili Cookoff April 4
Fundraiser for the Daniel Community Center
by Bettina Sparrowe
March 31, 2009

This coming Saturday, April 4, is the 28th "Aniel" Daniel Chili Cookoff and Dessert Auction at the Daniel Community Center at 18 Schoolhouse Road in Daniel.

Bring red or green chili in a crockpot with your name and phone number on it to be plugged in at the schoolhouse between 4:00 and 5:00 pm. Then sit back and eat some salsa and chips and wait for dinner at 6:00 and the dessert auction at 7:00 to benefit the Daniel Community Center.

The chili entry fee is $10. Dinner fee is $5 per person or $15 per family, but chili entrants get dinner free. Bring any dessert (cakes, pies, cookies, fudge) and raise money for the Daniel Community Center.

Prizes are given for first, second, and third place in red and green chili categories, best overall chili, best decorated dessert and dessert that raises the most money.

For more information call 307-859-8606 or e-mail schoolhouse1920@yahoo.com.

Editor's Note: Last year's Aniel Daniel was standing room only. Some of the cakes auctioned off for hundreds of dollars. This is a great fundraiser event to support the historic Schoolhouse/Community Center in Daniel. The town of Daniel, 12 miles west of Pinedale, has a population of about 110.




Related Links