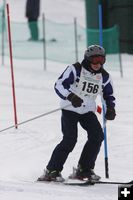 Molly McGowan Rounds A Gate!

90+ year-old Molly McGowan rounds a gate in the slalom during the Wyoming Senior Winter Games, concluded in Pinedale on Sunday, February 16, 2009.


Wyoming Senior Winter Games Wrap-up In Pinedale!
by Dave Bell
February 15, 2009

Athletes from Wyoming and surrounding states concluded the Second Annual Pinedale hosted Wyoming Senior Winter Games at an enmasse banquet held on Saturday night in Pinedale.

Over 100 athletes participated in the Winter Games and competed in nordic, alpine, hockey, skating, swimming, raquetball and pickelball. Participants earned Gold, Silver and Bronze medals based upon their finish position and age category.

The oldest participant was 90 year-old Molly McGowan from Silverthorne, CO who participated in Nordic and Alpine events including the Giant Slalom and 5km Nordic Classic Race. Molly told event coordinators she will be back next year and will spread the word to seniors in Silverthorne. "I'll let them know how things are supposed to be done", she told organizers, as she was speaking about the hospitality, and laid-back atmosphere of the Pinedale hosted games.

New events added this year include swimming, raquetball, pickelball and the First Annual White Pine 15km Nordic Open ski race. All new events drew solid numbers of participants and will be continued again in 2010.

The Winter Senior Games are a winter version of the Wyoming Senior Summer Games held each July in a selected location in Wyoming, with Rock Springs being the host in 2010 and 2011. The Summer Games Chairman is Ken Konicek of Pinedale who also serves on the National Senior Games Board of Directors.

For more information about the events, race and event results, call Amber Anderson at the PAC.

The Organizing Committee thanks the many individuals, businesses and volunteers who helped make the games a success in Pinedale. It takes hundreds of volunteer hours to successfully run these events and make them smooth, organized and fun for everyone. We thank the Pinedale community for terrific support and for serving as grateful, warm and friendly hosts to our guests over the past several days.