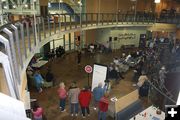 Packed Lobby

The Pinedale Aquatic Center lobby was full Friday night. Music and demonstrations were given through out the evening.





PINEDALE AQUATIC CENTER
www.PinedaleAquatic.com
307-367-2832




PAC One Year Anniversary
by Pam McCulloch
February 10, 2009

The Pinedale Aquatic Center celebrated its first year anniversary on Friday, February 6th. Events included music, class demonstrations, fun and food. This was also the February Membership Mixer for the Sublette County Chamber of Commerce. Fun memorabilia of the past year was on display. The PAC is free "for the day" the week of Feb. 9-13, for those who participate in a class!

Photos by Pam McCulloch, Pinedale Online!






Related Links