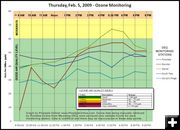 Ozone Monitoring Feb 5

Ozone monitoring for Thursday, February 5th, under the DEQ Ozone Advisory. The Daniel monitoring station reported levels above 60 ppb for several hours in the late afternoon. All other monitors remained in the "Good" range during the day. Readings at South Pass were at higher levels for ozone for most of the afternoon than they were in Pinedale.


Ozone Advisory issued for February 5
by Wyoming Department of Environmental Quality (DEQ)
February 4, 2009

(Upper Green River Basin, Wyo.) - The Air Quality Division (AQD) of Wyoming's Department of Environmental Quality (DEQ), in conjunction with the Wyoming Department of Health (WDH), is issuing an ozone advisory for Thursday, February 5, 2009, for the Upper Green River Basin, in Sublette County.

Ozone is an air pollutant that can cause respiratory health effects especially to children, the elderly and people with existing respiratory conditions. People in these sensitive groups should limit strenuous or extended outdoor activities, especially in the afternoon and evening. More information on ozone and the health effects of ozone are available at the Wyoming Department of Health website, http://www.health.wyo.gov.

Predictions of elevated ozone are based on evaluation of weather forecasts, and are therefore only as reliable as those forecasts. DEQ is conducting an intensive study of wintertime ozone formation in the Upper Green River Basin. Ozone appears to be elevated in the Basin when there are strong temperature inversions, low winds, snow cover, and bright sunlight.

Current information on ozone levels at the Air Quality Division's monitoring stations at Daniel, Pinedale, and Boulder can be found at www.wyvisnet.com.