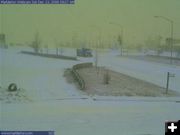 Marbleton View on Saturday

View of Marbleton and looking north on US 189 around 9:00 AM on Saturday, December 13th. This cam is located at Obo's in Marbleton.



Click here for links to more area webcams. (If you enjoy looking at the webcams, please thank the sponsors when you get a chance.)


Winter Weather Advisory for western Wyoming
Snow, slippery roads, 3-7 inches snow to Upper Green River Valley
by National Weather Service
December 13, 2008

A Winter Weather Advisory remains in effect until 11:00 pm Saturday evening. Periods of snow, sleet or freezing rain will cause travel difficulties. The National Weather Service advises travelers to be prepared for slippery roads and limited visibilities and use caution while driving.

Snow is expected to continue Saturday. Snow will taper off late this evening. Total storm accumulations of 3 to 7 inches are expected from Pinedale to Bondurant with this system. The higher amounts in Bondurant.

Total snowfall amounts across the west slopes of the Wind River Mountains will range from 6 to 12 inches. Northwest wind at 15 to 30 mph will cause areas of blowing and drifting snow and limited visibility through this evening.