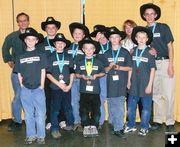 Fire Blazers

The Fire Blazers pose with their 3rd place "Lego" trophy. Members are; Back row coach Hal Erickson, William Shafer, Dawson Hoover, Conor Sullivan, Coach Robin Schamber, Matthew Shafer. Front row: Martin Erickson, Garrett Lozier, Thomas Mack, Guthrie Sturman and David Rule.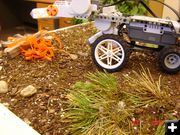 Mog Squad

The "mog Squad" unmanned heat sensing fire fighting vehicle that the kids designed.


Robo Mania
Sublette Fire Blazers travel to Casper for the 3rd annual Wyoming First Lego League championship
by Robin Schamber, UW/ Sublette County Extension
December 11, 2008

Robotics enthusiasts (the Sublette Fire Blazers); Matthew and William Shafer, Conor Sullivan, Thomas Mack, Dawson Hoover, Garrett Lozier, Martin Erickson, Guthrie Sturman and David Rule returned from Pinedaleís first ever participation in the 3rd annual Wyoming First Lego League championship at the Casper Events Center with a trophy (made of Legos of course!).

Team members have been preparing since early September for the annual tournament held in Casper. The group of students has been meeting as an after-school program from 3-15 hours a week since this yearís challenge was announced in early September. The students began the robotics program last spring (either as after school program or a 4-H project) when grants from EnCana Oil and Gas and the University of Wyoming helped Sublette County 4-H purchase 12 Lego Mindstorms NXT kits and software. They have continued to hone their skills throughout the summer and fall with the goal of participation in the Wyoming FLL contest.

First Lego League is a global program created by the joining of forces between entrepreneur Dean Kamen and The Lego Groupís Kjeld Kirk Kristiansen to get kids excited about science and technology. Kamen, an inventor and physicist has dedicated his life to developing technologies that help people lead better lives. Notable inventions include a portable dialysis machine, a sophisticated mobility aid and the Segway Human transporter. In 1998, First Lego League (FLL) was created for youth ages 9-14 and reached over 100,000 youth across the world in 2007. FLL uses theme based challenges to engage kids in research, problem solving, and engineering. The cornerstone of the FLL program are its core values which emphasize teamwork, friendly sportsmanship, learning and community involvement.

The 2008 Wyoming FLL tournament involved 60 teams from across the state comprised of from 3-10 team members. The theme was "climate connections" and the event was a four part contest. First, teams must work collectively to design and program their robots to accomplish 20 different missions worth a total of 400 points on the mission mat in less than 2 minutes 30 seconds. Secondly, teams are given the opportunity to explain their robot design and programming to a panel of judges for a technical judging score. Third, the team is instructed to perform a "teamwork" task in front of a panel of judges and scored on their ability to work as a team. Finally, each team researches a climatic issue in their community, connects it with another community and comes up with an innovative solution to that issue. The team then presents their research and solution to a panel of judges at the event.

The Fire Blazers placed 3rd overall for their innovative solution to their research problem. The team researched forest fires in our area, linking them to prolonged drought, the mountain pine beetle, human causes and forest management. They cited the dangers forest fire fighting personnel face as a major issue fires pose and presented their own unique solution, an unmanned heat seeking robotic fire fighting unit. The team put together a prototype of what this unmanned robot may look like and presented a demonstration of its ability to seek out fire in forest terrain. The team also had an excellent teamwork session, as they were the able to efficiently and effectively complete the team work task within the 5 minutes allowed.

Throughout the process, each team member has contributed a great deal to the missions, the research and the design and problem solving. Likewise, without the great team work and support (funding and facilities) of School District #1 and BOCES to Sublette County 4-H, this program would not have been made possible. We all look forward to the 4th annual Wyoming First Lego League Championship Friday and Saturday December 11th and 12th 2009. If you are interested in learning more about the program call the Extension Office at 367-4380 or check out the blogspot at Wyomingfll.blogspot.com.