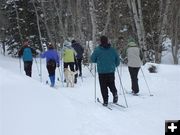 Kelly Park skiers

Group of Nordic skiers at Kelly Park. Photo by Bob Barrett, Pinedale Ski Education Foundation.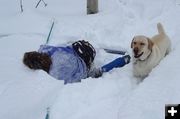 Biff

This local anonymous skier has discovered one of the small hazards of venturing off the groomed path while tracking-in the Sweeney Creek cutoff trail. Photo by Bob Barrett, Pinedale Ski Education Foundation.


Pinedale Nordic Ski Grooming Report, December 30
by Bob Barrett, Pinedale Ski Education Foundation
December 29, 2008

The big Christmas storm dramatically changed the local Nordic ski scene. Our entire 17-mile trail system is now in service. We are no longer grooming upper Skyline Drive to Elkhart as we have adequate snow on the designated ski trails. Certain trail sections have some obstacles still showing, so caution is required, especially on Flat Line and the tie-in trail from lower Surveyor to Kelly Park. The CCC Pond Pathway is groomed, but ski touring is just marginal and skating is not recommended until more snow arrives.

This seasonís trail grooming will be done on a schedule. The trails along Skyline Drive and the CCC Pond Pathway are now groomed on Monday, Wednesday and Friday mornings. Additional grooming on the upper trails will occur on Saturday mornings, if needed.

The Ski Foundation reminds users that skiers with dogs, snowshoers and walkers are welcome on the groomed trail system south of the White Pine chairlift. This includes lower Surveyor Park and the trails on either side of Skyline Drive down to Kelly Park and the Halfmoon Overlook and, near town, the CCC Pond Pathway. The trails north of the White Pine parking area in upper Surveyor Park (Hummer, Tree Loop, Flatline, Moose Ridge and Heart Attack) are used by the high school Nordic ski team and other skiers who desire an unmarred ski track. We groom this area for skiers only. Please respect our signs.

Photos by Bob Barrett, Pinedale Ski Education Foundation.