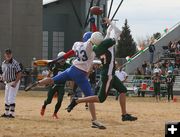 Pass Defense

Chase Lederer (P17) breaks up a pass to Steven Durtsche (L83) on the 10-yard line in the first quarter....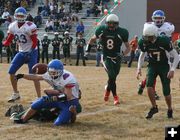 Fumble

....Kade Baxendale (L5) grabbed the deflected pass, but Luke Egle (P45) tackled him on the 5-yard line causing a fumble that was recovered in the end zone by Chase Lederer (P17) ending Lovell's first scoring threat.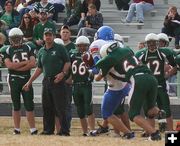 Zack Egle

When linebacker Zack Egle (P64) was not in the backfield harassing the quarterback, he was in pass coverage. Here he stops running back Trevor Harrison (L22) for a 1-yard loss.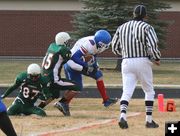 Lovell 7 - Pinedale 0

Ben Long (L89) caught a 26-yard touchdown pass for Lovell's first touchdown. Zack Barta (P87) and Aaron Milne (P15) are defending.


Wranglerís Huge Playoff Comeback
Pinedale Wranglers 28, Lovell Bulldogs 23
by Clint Gilchrist, Pinedale Online!
November 2, 2008

Last week, Pinedale honored the Wrangler senior football players. Many of the seniors indicated their favorite football memory was making the playoffs. Now they have a come-from-behind playoff victory to add to those memories.

With two minutes left in the half, the Wranglers had just gone down 23-0 on a fumble recovered by Lovell and returned for a touchdown. Through almost two quarters of play, Pinedale had no 1st downs and negative total yards on seven offense drives. Instead of running the clock out and regrouping at halftime, Coach Gregory came out firing. After a couple incomplete passes, Nick Jaquez hit Zack Barta for 11 yards to get a new set of downs. Two incomplete passes later, Nick Jaquez hit Chase Lederer down the sidelines for a 52-yard touchdown and a positive finish to a miserable first half.

The Bulldogs dominated the first half with over 200 yards offense. Late in the first quarter, Grant Geiser hit Ben Long on a 26-yard touchdown pass to complete an 80-yard drive. In the second quarter, Lovell went up 14-0 on a 4-yard Grant Geiser touchdown pass to Kade Baxendale. On Pinedaleís next series, Shane Dickerson blocked a Chase Lederer punt out of the end zone for a safety and Lovell increased its lead to 16-0. On Pinedaleís next possession, a Nick Jaquez fumble was recovered by Jordan Mickelson who returned it for Lovellís third touchdown increasing their lead to a commanding 23-0. Pinedaleís late touchdown left them trailing 7-23 at halftime.

An inspired Pinedale defense put pressure on the Bulldog offense in the 3rd quarter and limited them to 32 yards. But the Pinedale offense also continued to struggle, until one minute left in the third quarter, Nick Jaquez connected with Aaron Milne for a 66-yard touchdown pass closing the score to 14-23. Announcer Ward Wise said it best, "we got us a ball game!"

On Lovellís next series, quarterback Grant Geiser hurt his ankle on a 5-yard sack by Pinedaleís Landon Wells and would not return to the game. Up to that point Grant had accounted for almost all of Lovellís offense (passing, rushing, kicking and returning kicks). Backup quarterback Kaleb Leithead was thrown to the wolves. The wolves are better know as Luke Egle, Zack Egle, Landon Wells, Alex Metzer and Landon Daniel who spent much of the second half in the Lovell backfield. The once powerful offense was held to negative yards for the rest of the game.

On Pinedaleís first series of the 4th quarter, Nick Jaquez completed a 33-yard touchdown pass to Aaron Milne to close the score to 21-23. On Lovellís next series, Zack Egle forced and recovered a fumble giving Pinedale the ball on the 25-yard line. Nick Jaquez finished the improbable Pinedale comeback with an 8-yard wide receiver screen touchdown pass to Aaron Milne for a 28-23 win.

This Wrangler team continues to grow. Three weeks ago trailing then #1-ranked Kemmerer Rangers by more than 20 points, there seemed to be little will to fight back. Facing a similar mountain this week, the players challenged each other and led by action one play at a time. And it was not just one player. Across the whole field everyone stepped up and made plays when they were needed. The Wranglers will need that confidence next week in the semifinals against now #1 ranked and undefeated Glenrock. It will be a tall order and they will be heavy underdogs, but you can no longer doubt these Wranglers.

Pinedale vs Lovell Program - Roster and Sponsors (400k PDF)