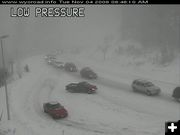 Teton Pass

Teton Pass webcam showing the view Tuesday morning, November 4th.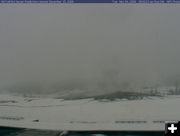 Old Faithful

Yellowstone National Park Old Faithful webcam on Tuesday, November 4.

Snow on the way
Winter Weather Advisory remains in effect
November 4, 2008
The Winter Weather Advisory remains in effect for western and central Wyoming Tuesday through Tuesday night. Snowfall is expected to continue across the mountains. The advisory applies to the Wyoming, Gros Ventre, Teton, and Wind River Mountain Ranges, as well as the Upper Green River Valley.

Rain will turn to snow in the far western Wyoming valleys Tuesday afternoon and continue through Tuesday night. Three to six inches of snow may be on the ground in the valleys by sunrise Wednesday morning, with 6 to 12 inches possible in the mountains.

Travelers are advised that mountain passes will become slick and snow-covered today with highways in the valleys becoming slick and snow covered Tuesday afternoon. Use caution while driving and plan extra time to reach your destination.

Related Links