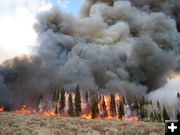 Maki Creek Burn

Flames engulf a stand of conifer and aspen trees on the Maki Creek prescribed fire in the Wyoming Range west of Daniel earlier this fall. Photo by Jill Miller, WGFD.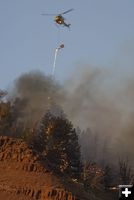 Torching Conifers

A burning fuel mixture trickles out of a heli-torch used to ignite conifer trees above cliff bands in the Red Hills area of the Gros Ventre drainage north of Jackson earlier this fall. Photo by Mark Gocke, WGFD.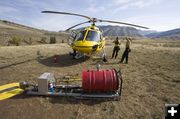 Heli-Torch

A photo of the heli-torch and helicopter used to ignite prescribed fires in the Gros Ventre drainage north of Jackson earlier this fall. Photo by Mark Gocke, WGFD.


Fall burns improve wildlife habitat
by Wyoming Game & Fish
November 29, 2008

It was a good fall for conducting prescribed fires in western Wyoming. The Wyoming Game and Fish Department partnered with a number of agencies and conservation groups to improve several thousand acres of wildlife habitat in the Jackson and Pinedale Regions.

"Conditions have to be just right to keep it safe," says Wyoming Game & Fish Pinedale Habitat Biologist, Jill Miller. "You need to have the right combination of factors such as fuel, temperatures, wind and humidity to carry a fire, but not so much that it becomes dangerous. We ended up having a pretty good fall for burning this year."

In all, four separate prescribed fires were accomplished in the area to improve habitat for big game species, such as mule deer and bighorn sheep, while also benefiting a number of other wildlife species.

The Maki Creek burn took place in the northern Wyoming Range west of Daniel. A primary goal of the fire was to set back natural succession by reducing conifer trees that were encroaching on aspen habitat. The prescribed fire burned approximately 1,400 acres in a mosaic type pattern.

"We're thrilled with the results of the fire," said Miller. "The scattered downed timber that was created last year really helped us get a fire hot enough to remove conifers. We should see a nice response from aspen in the coming years." Miller says over 200 wildlife species utilize aspen habitat, but mule deer particularly should benefit from the flush of new vegetation for both quality forage and cover. Additional acres are scheduled for treatment in future years as conditions allow.

The Gros Ventre burn took place in the lower Gros Ventre drainage north of Jackson. This interagency effort took place over several days and was focused primarily to benefit bighorn sheep that winter in the Red Hills area. A major objective was to remove a portion of the conifer trees that had naturally increased over the past several decades of fire suppression. The fire burned approximately 1,300 acres of timber, aspen and sagebrush across an area of over 5,500 acres total.

"Bighorn sheep typically prefer open areas with good grass for foraging next to steep rocky habitat for escape cover," says Jackson Habitat Biologist, Steve Kilpatrick. "Our goal was to remove some specific stands of conifer trees that had built up at the top of the cliff bands in the Red Hills area. Removing the trees increases visibility and promotes high nutrition forage for the sheep."

This project was conceived and initiated by the Jackson Interagency Habitat Initiative, a partnership recently formed between the Wyoming Game & Fish Department, Bridger Teton National Forest, National Elk Refuge and Grand Teton National Park. "It was really gratifying to see the great collaboration between all the agencies on this project," said Kilpatrick. "Every day we had a wildlife biologist working side-by-side with the burn boss to strategically place fire so that the greatest benefit was gained for wildlife."

Another prescribed burn took place this fall southeast of Afton, WY, in the Lower Cottonwood drainage. Similarly, this habitat treatment involved setting back the natural succession of conifer trees encroaching on mountain shrub and aspen important for wintering mule deer. In this case, juniper trees had begun to overtake shrubs important to mule deer, such as mountain mahogany. The burn resulted in a mosaic type pattern over approximately 400 acres.

Lastly, the Hill Creek burn took place in Darby Canyon on the west slope of the Teton Range from Jackson near Victor, ID. This burn involved some 1,700 acres, of which only 750 were planned for actual burning. Again, the intent of this prescribed fire was to reduce the number of conifer trees while promoting mountain shrubs important to wintering big game species.

Each of these projects are multi-year efforts that involve a number of partners and funding sources including the Governor's Wyoming Wildlife and Natural Resources Trust, Wyoming Game & Fish, U.S. Forest Service, Wyoming Chapter of the Foundation of North American Wild Sheep, Wyoming Gov. Big Game License Coalition and several others.

"These projects are not easy to complete, by any means," says Kilpatrick. "Between the coordination of all the partners and funding and then the necessary cooperation from Mother Nature, they can take several years to pull off. We made some great strides for wildlife this year and hopefully we'll be able to pick up where we left off next spring and fall."