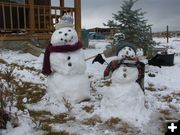 Snowmen

Kathy Flanders and her neice, Chelsea Ball, took advantage of the wet snow as the storm made its way through Boulder on Saturday, October 11th. Photo by Kathy Flanders.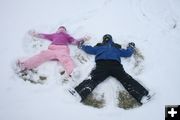 Snow Angels

The McCulloch kids couldn't wait to get out and play in it. They made snow angels in their backyard. Photo by Pam McCulloch.


Winter arrives in the Upper Green
by Pinedale Online!
October 11, 2008

Winter arrived in full force on Saturday bringing several inches of fresh, wet snow to the valley.

Emergency services were busy helping travelers with slide-offs and minor accidents. Some trucks and trailers trying to get up over the Rim on US 191 between Pinedale and Jackson found themselves unable to make the hill causing congestion as things piled up at that location. Some vehicles attempted to back down the highway, causing further confusion. Sanding trucks were dispatched to help with slick conditions there. Travelers are urged to carry chains in their vehicles and make sure they have the appropriate emergency equipment for winter road conditions.

Livestock have many more months of winter conditions to endure. Fortunately, most put on heavy winter coats and weather the snow, wind and cold without much discomfort.

Click on the links below for more information about current weather and road conditions in western Wyoming.

Photos by Kathy Flanders, Pam McCulloch, area webcams, as noted, and by Dawn Ballou, Pinedale Online!