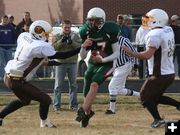 Chase Lederer Touchdown

Chase (P17) scored the first Pinedale touchdown on a quick slant pass from Nick Jaquez. In the 4th quarter Zack scored another touchdown on an interception return.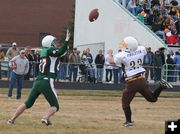 Zack Barta Touchdown

Zack (P87) grabbed this deflected pass in the 2nd quarter to give Pinedale a 20-0 lead at halftime. Zack also scored Pinedale's final touchdown in the 4th quarter on an interception return.


Wranglers shutout Rocky Mountain 32-0
High School Football
by Clint Gilchrist, Pinedale Online!
October 25, 2008

On the day the Wranglers honored 14 seniors, they got their third shutout of the season and easily defeated the Rocky Mountain Grizzlies 32-0 on Friday, October 24th at a home game in Pinedale.

Both teams made mistakes early and were not able to sustain drives. The first quarter ended scoreless. But the Wranglers took control in the second quarter with a tough defense and big play offense. Nick Jaquez connected with Chase Lederer on a quick slant pass for Pinedale's first touchdown. On the next drive, Nick Jaquez scored on a one-yard quarterback sneak. Just before halftime, Zack Barta scrambled to catch a deflected pass in the end zone, giving Pinedale a 20-0 lead at halftime.

The Grizzly offense could not run on the tough Wrangler defense all day. Trailing by 20 points, Rocky Mountain came out in the second half and threw the ball almost every down. They were able to connect on a handful of big plays, but could not string enough together to sustain a drive. At one point in the third quarter they did make it to the Pinedale five-yard line. But on 4th down, Aaron Milne's tight defense resulted in a dropped pass in the corner of the end zone giving the ball back to Pinedale. Both teams were scoreless in the third quarter.

The Wrangler defense dominated in the 4th quarter causing turnovers in the last four Grizzly drives with two defensive touchdowns. First, Chase Lederer intercepted a pass and took it back 80 yards for a touchdown. On the first play of the next drive, Zack Barta intercepted a deflected pass and returned it for Pinedale's final touchdown. Zack Egle ended the next drive with an interception. Luke Egle recovered a fumble to end the Grizzly's last drive.

The Wranglers finished the regular season with five wins and three losses. They have three wins in conference and only lost once to the top ranked Kemmerer Rangers. The Wranglers will be the second seed in the West Conference and will host Lovell (4-4) next Friday in the first round of the playoffs.