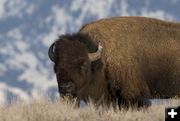 Bison

Bison grazing in Grand Teton National Park. Photo by Mark Gocke, WGFD.



Scroll down for more of Mark's photos.


G&Fís Mark Gocke honored
For his public relations and photography skills
by Wyoming Game & Fish
October 13, 2008

Mark Gocke, the Wyoming Game and Fish Departmentís information and education representative in Jackson and Pinedale, has been honored as the departmentís 2007 Services Division Employee of the Year.

Gocke started his Game and Fish career as a habitat extension biologist in Wheatland in 1991 and also served in that position in Sheridan before being promoted to his current post in 1995.

"Mark has established himself as a trusted and reliable spokesman for the department on issues ranging from brucellosis and elk feedgrounds to grizzly bears, wolves, energy development and a variety of other sensitive subjects," said Bob Lanka, regional information and education supervisor.

Gocke is a York, Neb. native and a 1985 York High graduate. He earned a bachelorís degree in wildlife management from the University of Nebraska-Lincoln in 1990, where he served as the publicity co-chairman for the UNL Wildlife Club and earned an Alumni Award. He served as a biological aid for the Soil Conservation Service and a conservation technician for the Nebraska Game and Parks Commission before moving to Wyoming.

Gocke was also cited for his photography expertise in receiving the award. Since 2004, he has won numerous awards from the Association ofConservation Information for his photography. He also practices that craft for his own photography business. His scenic and wildlife images regularly appear in regional publications.

Gocke and his wife, Lisa, have two children, Jonah, 12, and Emilie, 10, plus a black Labrador.




Related Links