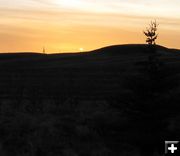 Shell Well Flare

The photo by Michael Kramer was taken on October 26th, just before the evening flare that could be felt and heard by people within two miles of the well.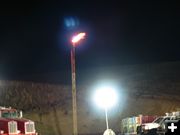 Flaring

Photo by Michael Kramer taken on Monday, October 27, at 7:40 PM at the Shell North Pinedale 8A Pad.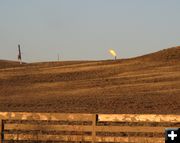 Flaring Oct 28

Flaring on a Shell well on Monday, October 28th at 7:18 AM. This well is visible from homes on the south end of Pinedale. Photo by Michael Kramer.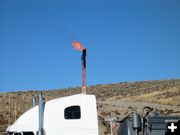 Well flaring Oct 28

Flaring at a Shell well on Monday, October 28, 2008. Photo by Michael Kramer.


Flaring concerns Pinedale residents
Well site activity south of Pinedale
by Dawn Ballou, Pinedale Online!
October 28, 2008

Citizens around Pinedale expressed considerable concern after seeing large flames and hearing rumbling coming from a natural gas drill rig near the southern end of Pinedale on Sunday night and Monday. One resident estimated the flames to be 100 feet high at times which caused his windows to rattle, and he could hear a distant roaring along with an annoying, very-low frequency humming. Another person said the flare lasted all night.

Residents also saw what appeared to be smoke coming from other wells at different locations in the same general vicinity and were concerned there might be fracing chemicals in the "smoke" that might be hazardous to human health.

Chuck Otto, Field Manager for the Pinedale Bureau of Land Management, told us today they were in contact with Shell and Questar about these incidents and the concerns. He said flaring is not supposed to happen during the drilling operations, however sometimes it can occur for safety reasons if there is an excess of gas during the well completion process. There are safety flare stacks on the drill locations for just that purpose, to burn off excess natural gas should it occur. "The flare stacks are there for safety, so they were doing their job," he said. "It shouldn't have happened, but the safety provisions were in place and working." He said the BLM was monitoring the situation and they did not believe there was any risk to human health or safety.

According to Deena McMullen, Senior Communications Advisor for Shell Exploration & Production Company, "On October 24, Shell began the "drill out" phase on the North Pinedale 14-8 location. During this phase, flaring is likely to occur. This is the normal completion technique for the Pinedale Anticline and a minimal amount of natural gas is flared at this time. More than 95% of the natural gas is sold during this phase, and 100% is routed to the pipeline for sales after this phase is complete. We are currently drilling out the last well and expect to complete this phase by this Wednesday. Shell's DEQ permit for green completions requires us to capture 90% of the natural gas. This permit is in place and Shell is well within this compliance requirement."

Anyone with concerns about activities on any Shell Rocky Mountain Production location can contact Deena McMullin at Deena.Mcmullen@shell.com or James Duran at 303-222-6373/303-222-6340.

In addition, Questar is in the process of reclaiming a couple of well pads in the same area. We spoke with Questar District Manager Kevin Williams about the concerns and photos that have been circulating via e-mail. He said one picture was of their Stewart Point Bypass 5-20 pad. He said this appeared to be when they were heating water to use for fracing. He said if it is a cold day, visible steam can be seen rising from the pad because of the temperature difference. This is just water vapor, not smoke. In another photo, which shows what appears to be a plume of white smoke traveling horizontally across the ground, he said this was their Stewart Point 2-20 pad, which they are in the process of doing pit solidification. This involves mixing cement with the cuttings. "If the wind is blowing hard, it blows across the dry cement and picks it up," he said. There is nothing in the mixture except the cement and the cuttings. The cement dust is not harmful to human health. Williams said they are pretty much done now with the pit solidification at the 2-20 well site. They will be going to the 5-20 pad soon to do pit solidification, so there might be some dust visible from that location if the wind picks up when they are mixing the dry cement. "We're trying to reclaim these sites this fall," he said. "As soon as they are done drilling we reclaim, re-contour, spread top soil and try to get vegetation down." Anyone with concerns about activity at any Questar well site can contact Williams at 307-367-3941.

Chuck Otto also emphasized that anyone with concerns or questions about the drilling activity taking place on BLM-managed land can contact the BLM at: 307-367-5300.
________________________________________
Editor's Note: The Department of Environmental Quality will be in Pinedale on Wednesday, October 29, to discuss air and water quality issues. DEQ Air Quality Administrator David Finley and other department staff will be on hand to hear questions and concerns from the public. Topics will include emissions inventory, offsets, permitting policies for drill rigs, more. Pinedale Auditorium, 6:00 to 8:30 PM.