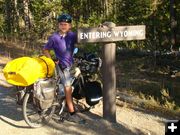 Entering Wyoming

The family is keeping a blog of their trip. When done, they will have biked 20,000 miles in a trip that will take 2-1/2 years.



Listen to an interview with John and Mary Vogel by Bob Rule, KPIN 101.1 FM Pinedale Radio on Saturday, October 11. Click here for interview (694K, 3:50 min, mp3 audio file)


Family on 20,000-mile bike trek visits Pinedale
Parents and twin sons biking from Alaska to tip of South America
by Dawn Ballou, Pinedale Online!
October 10, 2008

Ten-year old Davy and Daryl Vogel will have a unique story to tell about their 5th, 6th, and 7th grades. They are spending those two-1/2 years with their parents bicycling 20,000 miles on a trek from Alaska to the southern tip of South America.

The Vogels, from Boise, Idaho, began their trip in June 2008. They arrived in Pinedale on Friday, October 9 and decided to hold tight after hearing reports of a strong winter storm threatening to drop from three to ten inches of snow in the Upper Green River Valley, and bringing blizzard conditions and wind chill values to 10 below zero further south near Rock Springs over the weekend.

The family is staying at High Country Suites in Pinedale and expect to stay until Monday, when the weather is forecast to return to sunny conditions and warm all the way up to around 39 degrees. Mom Nancy wrote in their blog, "I can't imagine being out here in blizzard conditions with 15 degree temps!! "

Parents John and Nancy, both long-time teachers, are "home schooling" their sons along the way to keep them up on their schoolwork. They are incorporating the sights and history they encounter along the way as they travel the Pan American highway.

The family is using their educational background to bring the world to under-privileged children in New York City through Reach the World (RTW). Reach the World is an educational non-profit organization with the mission of linking students in under-funded schools to online, global expeditions. These expeditions have the power to expand learning beyond the four walls of the classroom. The cyclists will be linked to classrooms via RTW's interactive website and live Internet chats.

The family is traveling with two single bikes and a tandem, which allows the boys to switch back and forth between the single and tandem. Once they arrive in Argentina at the end of their journey, Davy and Daryl will become the new Guinness World Record holders as the youngest people to cycle the Pan-American Highway.

Follow the Vogel family's adventure on the blog on their website. You you can also sign up to receive their newsletter for more updates.

Click here for an interview with the John and Mary Vogel by Bob Rule, KPIN 101.1 FM Pinedale Radio: Interview with the Vogel family Saturday, October 11, 2008 (694K, 3:50 min, mp3 audio file)

Photos courtesy of the Vogel family. See their website for more photos of their trip.