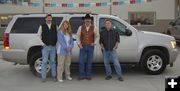 New 4-H Vehicle

EnCana, Wolf Pinedale Dodge, Sublette County and UW contributed to make the new 4-H van possible. Photo courtesy Sublette County 4-H Council.


Donors help 4-H purchase vehicle
EnCana, Wolf Pinedale Dodge, Sublette County and UW contribute
by Sublette County 4-H Council
October 31, 2008

The Sublette County 4-H Council received funds from EnCana Oil & Gas (USA) Inc. and Wolf Pinedale Dodge to purchase a pre-owned, nine-passenger 2007 Chevrolet Suburban to shuttle county 4-H youth to and from events.

Sublette County 4-H provides out-of-school educational opportunities to Sublette County youth, ages eight to 19. The organization renders opportunities for youth to advance their knowledge in agriculture, the environment, communities, human health and well-being.

EnCana's $22,995 donation, along with $8,675 donated by Wolf Pinedale Dodge, will cover the cost of the Cheverlot Surburban. The University of Wyoming will be responsible for insurance coverage and vehicle licensing. Sublette County will cover standard mileage reimbursement to cover fuel, maintenance and depreciation reserves.

"This vehicle will be a tremendous asset to our county program, as we presently do not have access to either a county or University of Wyoming vehicle," said Robin Schamber, University of Wyoming/Sublette County Extension 4-H Educator. "Without proper transportation, many youth do not have the opportunity to participate in numerous contests and events in and out of state."

"The suburban will allow youth to have safe, reliable transportation to agricultural, environmental and recreational 4-H programs and activities in our local community and around Wyoming," said Greg Schamber, EnCana regulatory analyst. "We are gratified that EnCana's donation to the Sublette County 4-H Council will offer youth the opportunity to experience activities that will enable them to learn and grow."

"I greatly appreciate all the support EnCana puts into our community and youth programs," said Schamber. "With the new vehicle, we hope youth attendance at various functions will increase, as adult leaders and extension office personnel will be able to drive students to desired events, such as the Wyoming State Fair, Youth Leadership camps, 4-H camps, Wyoming Legislative Days, 4-H programs and youth competitions."