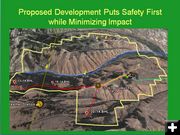 Proposed Development

Up to 4 directional wells will be drilled. Two for the initial phase (100 MMSCFD), 2 more for expansion to 200 MM. These are high rate wells.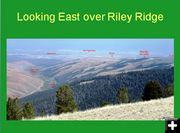 View looking east

View looking east over Riley Ridge. Much of the valley bottom shown in this photo is privately owned (Budd and Hamilton ranches).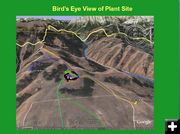 Plant Site

Proposed plant site. View looking west.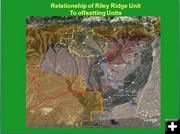 Offsetting Units

Relationship of Riley Ridge Unit to offsetting units. Exxon Operated Units shown in Orange (Tip Top, Fogarty Creek, Lake Ridge and old Darby Mtn (now called North Lake Ridge)). Cimarex operates Miami Ditch Unit shown in Red.



Cimarex Energy Co.
Corporate Headquarters
1700 Lincoln Street, Suite 1800
Denver, CO 80203
Phone: 303-295-3995
Fax: 303-295-3494
www.cimarex.com


Cimarex Energy proposes helium/methane project near Big Piney
Oct. 10 deadline for public comments
by Dawn Ballou, Pinedale Online!
October 9, 2008 | Updated October 31, 2008

The public has until Friday, October 10, to make comments on the proposed Cimarex Rands Butte helium-methane project near Big Piney.

The Bureau of Land Management, Pinedale Field Office, is initiating an environmental analysis process for proposed federal rights of way and Applications for Permit to Drill for the lease by Cimarex Energy, Inc. (XEC).

In early August, Cimarex was granted a Wyoming Special Use Lease for development of a methane and helium recovery facility located on State of Wyoming land on the ridge south of South Piney Creek on the eastern flank of the Wyoming Range. The project area is approximately 1-1/2 miles east of the Bridger-Teton National Forest boundary and west of Big Piney.

The proposal involves facilities that would be located on, and cross, a combination of State, Federal (BLM) and private land. The project area is comprised of approximately 618 acres. Four wells would be drilled from an existing well pad on BLM land. A methane and helium recovery facility would be located on State of Wyoming Land within the project area. The majority (~75%) of the gas would be reinjected, on site, back into the Madison formation. The methane would be transported to the nearest connection to Williams Pipeline for sale. The raw Helium (less than 1% of the gas) would be piped approximately fifteen miles to a liquefacation facility on private land on Calpet Road near US 189, approximately three miles south of Big Piney. The helium liquefaction plant would be owned by entities other than Cimarex Energy.

Additional infrastructure needed for the project include an access road upgrade, a powerline, a fiber optic line, an air quality monitoring station, and natural gas and helium pipelines. No new roads or drilling pads would be constructed for the proposed project. The life of the project is expected to be 50 years. Efforts will be made to locate the structures as much as possible out of view from users of the South Piney/Lander Trail road in the valley below.

The recovered commercial gasses in this project are helium and methane (natural gas). Helium is currently in short supply nationally and internationally, making it a desirable byproduct commodity of the natural gas extraction in this drilling proposal. It is expected that this project will result in a maximum production of 400 million cubic feet per year of helium, which will be 10% of the world's production of new helium. Total production would be 200 million cubic feet /day of raw gas, comprised of about 40 MMSCFD of Methane and 1 MMSCFD of Helium.

Byproducts of the gas-recovery process include hydrogen sulfide (H2S) and carbon dioxide (CO2) in liquid form. The Rands Butte Project would allow Cimarex Energy to implement and test new technological advances in processing the complex gas mixture. They plan to test the process of immediately re-injecting the unwanted acid gasses (H2S and CO2) back into the Madison formation without further processing. The project also involves the disposal of 850 barrels per day of produced water which would be re-injected into a 13,100 foot disposal well. No ponds or storage reservoirs would be utilized in this project proposal. The project is expected to employ 26-34 full-time workers.

The BLM and representatives of Cimarax Energy held a public information meeting at the Marbleton Town Hall on Monday, September 29th. Scott Stinson, Project Manager for the Riley Ridge Madison Gas Development Project, gave a presentation on behalf of Cimarex Energy and the Rands Butte Project. The graphics in this article are from the PowerPoint presentation given by Cimarax at that meeting (used with permission).

As part of wildlife mitigation associated with this project, Cimarex will invest approximately $1.5 million on elk data gathering, damage prevention and habitat enhancement with the Wyoming Game & Fish Department.

Written or e-mailed comments or concerns should be sent to the Pinedale Field Office of the BLM by Friday, October 10, 2008. Public comments submitted for scoping review, including names, e-mail addresses, and street addresses of the respondents, will be available for public review. See the Scoping Notice at www.wy.blm.gov for additional details about commenting guidelines. Hard copies are available at the BLM's Pinedale Field Office.

Written comments should be sent to:
Chuck Otto, Field Manager
BLM Pinedale Field Office
PO Box 768
Pinedale, WY 82941

Comments can be dropped off at the BLM office at 1625 West Pine Street in Pinedale. Electronic comments may be sent to pinedale_wymail@blm.gov. Comments may also be sent by fax to (307) 367-5329. Respondents are asked to put "Scoping Comments for the Cimarex Project" in the e-mail subject line.

Cimarex Energy (NYSE, XEC) is an independent oil and gas exploration and production company based in Denver, Colorado. Their principal operations are in Oklahoma, Texas, New Mexico and Louisiana. The company reported sales of $1.9 Billion and income of $582.3 Million over the past 12 months.
_______________________________________

Graphics courtesy Cimarex Energy Co. Special thanks to Scott Stinson, Project Manager, Riley Ridge Madison Gas Development Project-Cimarex Energy Co., for his contributions to this article.
_______________________________________
Editor's Update, October 31, 2008: We received an updated drawing of the proposed Helium plant from Mike Carberry with Air Products & Chemicals Inc. Click on this link for the map (PDF): Helium Plant current plot plan – October 31, 2008 (73k)




Related Links