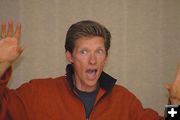 Director Choreographer John Goss

The Pinedale Community Theatre hired John Goss of Aspen, Colo., as the director/choreographer for the local production of Roger and Hammerstein's "The Sound of Music." Along with directing more than 30 full-length stage musical, Goss has also taken to the stage for many role, including portraying the part of Friedrich in "The Sound of Music," at the age of 13.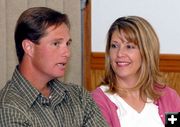 Shawn and Kim Buchanan

Shawn and Kim Buchanan will play opposite each other as Captain von Trapp and Maria Rainer.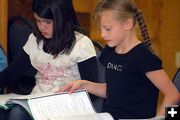 Claire Stough and Haley Boulter

Claire Stough, left, and Haley Boulter follow along with the script before reading their lines as von Trapp children Brigitta and Gretl.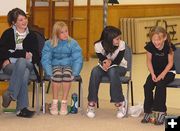 Rehearsal fun

When she hears of another cast member's dancing repertoire, Haley Boulter, far right, can't help but to break into laughter with cast mates (left to right) Skye Anderson, Mary Margaret Grassell and Claire Stough during Tuesday's rehearsal.


Cast is set for the upcoming production of The Sound of Music
Pinedale Community Theatre performances will be held November 20-22
by Janet Montgomery
October 16, 2008

Amidst giggles and voices and papers shuffling, the more than 35 members of the cast along with a few crewmembers gathered Tuesday evening readying their voices and lines in a read-through rehearsal at the Pinedale Community United Church of Christ in preparation for the upcoming "Sound of Music" production.

The cast for the upcoming production is set for the Pinedale Community Theatre's first musical to fill the stage at the Pinedale High School Auditorium in November.

More than 80 children and adults auditioned for the roles, making for a diverse crowd of Pinedalians to comprise the cast of actors and crew members, which includes school children, retirees, teachers, business owners, an EMT, dance teachers, artists, accountants, a speech therapist, a minister, ranchers, nurses, builders, a professional photographer, police force and a lawyer.

John Goss of Aspen, Colo., is the Pinedale Community Theatre's guest professional director/ choreographer for the production, while Pinedale's own Barb Wise will serve as assistant director to the production with David Dyer, also of Aspen, as the productions conductor.

The story behind the play "The Sound of Music" is based on an actual family form Salzburg, Austria. The production initially opened on Broadway in 1959 before Hollywood made the movie version starring Julie Andrews in 1965.

PCT Managing Director Valerie Lee, who was born and raised in Pinedale, will serve as the music director and vocal coach for the production.

As for the cast for the first musical production of the PCT, Kim Buchanan will play the lead role of Maria Rainer opposite Shawn Buchanan, who will portray Captain von Trapp.

Seven Pinedale youths will portray the von Trapp children with Mogran Holz as Liesl, Josiah Piros as Friedrch, Skye Anderson as Louisa, Gannett Loftus as Kurt, Claire Stough as Brigitta, Mary Margaret Grassell as Marta and Haley Boulter as Gretl.

Rev. Carol White will play The Mother Abbess with Jocelyn Moore as Sister Bertha, Sue Briggs as Sister Margaretta and Leslie Rozier as Sister Sophia.

Fred Pflughhoft has taken on the role Franz the butler, opposite Frau Schmidt, the housekeeper, portrayed by Carmen Hittle.

Other cast members include: Dylan Nelson as Rolf Gruber, Allegra Davis as Elsa Schraeder, Brielle Buchanan as Ursula, Jason Hone as Max Detweiler, Mark Kalal as Herr Zeller, Rollie Meyers as Baron Elberfeld, Crystal Updyke as Baronees Elberfeld, with Kathryn Koniceck as A New Postualant and Gene Andrews as Admiral von Schreiber.

Dancers include Jason Hone, Preston Goulette, Gene Andrews, Dylan Nelson, Julie Konicek, Jeanne Raney, Kathryn Konicek and Sue Holz with Postulants Kathryn Konicek, Brielle Buchanan, Sue Holz and Jeanne Raney.

Contestants at the festival concert for the trio of Saengerbund of Herwegen are Kody Boyce, Lauri McClain and Laura Lopeman with Christine Cramer cast as the first soloist of the choir at St. Agathe's Church.

Preston Goulette and Rollie Meyers will also play the two Germans with Kody Boyce and Laura Lopeman also cast as the neighbors of the von Trapp family.

Nuns at Nonnberg Abbey include Rev. Carol White, Jocelyn Moore, Sue Briggs, Leslie Rozier, Jeanne Raney, Kathryn Konicek, Christine Cramer, Brielle Buchanan, Sharon Ziegler, Julie Konicek, Sue Holz, Lauri McClain, Laura Lopeman, JJ Huntley, Marianne Mrak, and Crystal Updyke.

The cast is accompanied by several local artists who will work as part of the production staff, including Madeleine Murdock, Sharon Ziegler and David Klaren as designers. Pianists JJ Huntley, Marianne Mrak, Coralee Petersen, Christine Cramer and Chandra Stough will accompany the singers. Frank Roncalio is the light and sound engineer, while Tim Ruland will work as a graphic designer for the production. Connie Berry, Lorraine Wise and Barbara Pape will head up the costumes with Dorothy Groves gathering hundreds of properties to accent the stage for the production. Gilda Senatore will be the assistant choreographer, while Ken McLaughlin, who was on stage for the March dinner theatre production, will be back stage for this show as the stage manager. Board member Kate Belinda is designing the web page at www.pinedaletheatre.com as well as programs for the show nights.

The performances of "The Sound of Music" will run Nov. 20, 21, and 22 at the Pinedale High School Auditorium with the curtain rising at 7 p.m. Tickets cost $10 for adults and $7 for children 12 years and younger.

Photos by Janet Montgomery, www.pjsnapshots.com