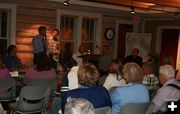 Candidate Forum

County Commissioner candidate John Linn speaks during the Oct. 20th Candidate Forum in Pinedale. He is seeking relection, running opposed Courtney Skinner.


Candidate Forum held in Pinedale
Legislative, County Commissioners, School District Candidates
by Dawn Ballou, Pinedale Online!
October 20, 2008

The Wyoming Conservation Voterís Education Fund (WCVEF) held a candidate forum at the Pinedale Library on October 20th for legislative, county commissioner and local school board candidates.

Candidates attending were:
Sublette County Commissioner: John Linn (R-Incumbent), Courtney Skinner (D)
House District 22: Charles Stough (R), Jim Roscoe (D)
Senate District 16: Dan Dockstader (R-Unopposed)

School Board, Sublette County School District #1:
Jim Malkowski
Doc Tom Johnston
Ken Marincic
Greg Anderson
Maggie Palmer
Mark Pape

The forum lasted for three hours with wide variety of topics discussed and candidates answering many questions from the audience. Time does not permit an in-depth summary of all the responses the candidates gave to the many questions. For more information about the candidates, please see the "Votersí Guide to the Candidates" publication which has been put together by the WCVEF for the races in our county. This organization has also put together similar voterís guides for Teton, Fremont, Lincoln and Carbon counties and their races.

Sublette County Voter Guide:
http://www.wcvedfund.org/assets/docs/WCVEF_SubletteGeneralWEB.pdf

Teton County Voter Guide:
http://www.wcvedfund.org/assets/docs/WCVEF_TetonGeneralWEB.pdf

Lincoln County Voter Guide:
http://www.wcvedfund.org/assets/docs/WCVEF_LincolnGeneralWEB.pdf

Fremont County Voter Guide:
http://www.wcvedfund.org/assets/docs/WCVEF_Fremont_GeneralWEB.pdf

Carbon County Voter Guide:
http://www.wcvedfund.org/assets/docs/WCVEF_carbon%20GeneralWEB.pdf

Wyoming Conservation Voters Education Fund is an educational service for Wyoming voters who want to protect our wildlife, clean air and water, healthy communities and open spaces by getting more involved in civic life. The WCV Education Fund (WCVEF) was created in 2000 as a vehicle to move Wyoming policy in a pro-conservation direction driven by the people. WCVEF focuses exclusively on engaging citizens and groups to work directly with decision-makers to have a voice in the decision making process.

WCVEF educates, motivates and provides capacity for Wyoming citizens and conservation organizations to protect and improve our land, air, water and health of our communities through civic action. WCVEF is headquartered in Casper, Wyo., with additional management and field staff located in Lander, Wyo. This is the third candidate forum WCVEF has held in Sublette County over the past two years for local elections.




Related Links
www.wcvedfung.org - Wyoming Conservation Voterís Education Fund (WCVEF)