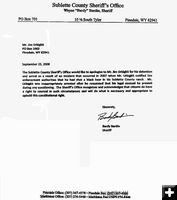 Apology Letter

Official letter of apology from Sublette County Sheriff "Bardy" Bardin.


Sublette County Sheriff's Office pays $50,000 settlement on Urbigkit arrest
Admits Jim Urbigkit was 'inappropriately arrested' in 2007
by Pinedale Online!
September 30, 2008

Media release from the Urbigkit family:
As part of a lawsuit settlement agreement, the Sublette County Sheriff's Office has issued an apology for arresting Jim Urbigkit in an April 2007 incident. The incident occurred when Urbigkit shot a black bear in his sheep pasture. After Urbigkit notified law enforcement officers about the bear shooting, a deputy arrived at the Urbigkit residence and arrested Urbigkit when he requested his attorney be present for questioning. Although jailed under the charge of interference with a peace officer, the Sublette County Attorney's office refused to file the charge with the district court.

Urbigkit filed a lawsuit in federal court against the SCSO for violation of his constitutional rights in the illegal arrest, in an attempt to ensure such an action would not occur again in the future.

"I appreciate that Sheriff Bardy Bardin has apologized," Jim Urbigkit said. "I recognize the difference between personal responsibility and professional responsibility. Bardy Bardin was in charge of the sheriff's department and he stepped up and took responsibility, even though he did not participate in the arrest."

Last week's settlement of the case included the written apology and $50,000, which covers the attorney fees and costs that have accrued since April 2007. Urbigkit was represented by Elizabeth Greenwood of Pinedale and Frank Chapman of Casper.
________________________________________

Below is the text of the letter from Sublette County Sheriff Wayne "Bardy" Bardin to Jim Urbigkit

September 25, 2008

The Sublette County Sheriff's Office would like to apologize to Mr. Jim Urbigkit for his detention and arrest as a result of an incident that occurred in 2007 when Mr. Urbigkit notified law enforcement authorities that he had shot a black bear in his Sublette County ranch. Mr. Urbigkit was inappropriately arrested after he requested that his legal counsel be present during any questioning. The Sheriff's Office recognizes and acknowledges that citizens do have a right to counsel in such circumstances and will do what is necessary and appropriate to uphold this constitutional right.

Sincerely,
Bardy Bardin
Sheriff
________________________________________________

Editor's Update: Note, we have corrected our transcription typo of '2008' in our earlier posting of Sheriff Bardin's letter. The correct date for the incident is '2007'. We asked Jim Urbigkit if he had any further comments on this incident. He said, "I had to stand up for my constitutional rights. And, with the support of my family, I did. I hope this goes out statewide." He added, "I will be satisfied with the settlement if it is sufficient that law enforcement across the state gets the clear message that you can't violate people's rights with impunity." As of the time of this article, we had not received a response from the Sublette County Sheriff's Office to our inquiry and request for comment on this settlement.