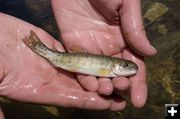 Trout fingerling

A Colorado River cutthroat trout fingerling reared at the Game and Fish Department's Daniel Hatchery that was recently stocked to LaBarge Creek. Photo by Mark Gocke, Wyoming Game & Fish.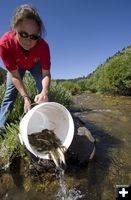 Hilda Sexauer

Pinedale Fish Supervisor, Hilda Sexauer, releases Colorado River cutthroat trout fingerlings to a tributary of LaBarge Creek recently. Photo by Mark Gocke, Wyoming Game & Fish.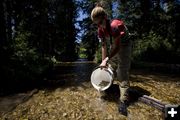 Diana Gould

Pinedale Fisheries Technician, Diana Gould, releases Colorado River cutthroat trout fingerlings to a tributary of LaBarge Creek recently. Photo by Mark Gocke, Wyoming Game & Fish.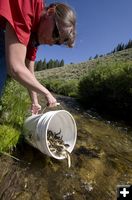 Des Brunette

Pinedale Game and Fish office manager, Des Brunette, releases Colorado River cutthroat trout fingerlings to a tributary of LaBarge Creek recently. Photo by Mark Gocke, Wyoming Game & Fish.


LaBarge Creek Cutthroat Trout Fish Restoration Continues
Stocked with 30,000 trout fingerlings
by Wyoming Game & Fish
September 7, 2008

(LaBarge, Wyoming) - For the second consecutive year, fish managers with the Wyoming Game and Fish Department have stocked fingerling Colorado River Cutthroat Trout to the cold waters of LaBarge Creek in the Wyoming Range. Last year, there were 9,200 fish stocked, but this year that number was upped to 43,700. Of those, some 30,000 fish went into LaBarge Creek itself with the rest being spread out amongst the tributaries.

"Weíve completed some sampling this year and we are really happy with the way last yearís stocked fish look," said Hilda Sexauer, Pinedale Regional Fisheries Supervisor for the Wyoming Game and Fish Department. "Theyíve doubled in size to about 7 or 8 inches and look very healthy. Plus, we didnít find any non-native fish species in our sampling, so that was good too."

The stocking of the young trout is the culmination of work by the fish management personnel from the Wyoming Game & Fish Department, and many others that began nine years ago as part of the largest fish restoration project ever launched in the state of Wyoming. The goal was to restore the entire upper reaches of the LaBarge Creek drainage to its native Colorado River cutthroat trout, the only trout native to the Green River drainage.

The Colorado River cutthroat has steadily diminished across its range and was even petitioned for listing as an endangered species in 1999. The listing was deemed unwarranted, thanks in part to projects like this helping to restore the sport fish to its native range.

"It was clear the native cutthroats were being outcompeted by nonnative fish, such as brook trout," explains Sexauer. "Plus, we were losing the genetic purity of the remaining Colorado River cutthroats through hybridization with rainbow trout and other strains of cutthroats."

LaBarge Creek was chosen for such a project because it had the quality habitat necessary for a successful restoration project and managers felt it could prove critical for the future survival of the species.

The project actually began in 1999 with public meetings and the planning necessary for the construction of a barrier that would effectively separate the area to be treated from the rest of the drainage below. Once the barrier was completed in 2002, treatments began to remove all the fish in the drainage above. It involved treating some 58 stream miles, including LaBarge Creek and its many tributaries.

"Restoring a fishery back to its native species is a common practice in fish management across the country," said Sexauer. "Itís a fairly straight-forward procedure in a closed basin like a lake, but it becomes a lot more difficult when you think about removing every single fish from a flowing stream and all of itís little tributaries."

Each summer, for the past several years, fish managers from across the state convened on LaBarge Creek to treat every nook and cranny of stream with antimycin and/or rotenone. These chemicals are similar and each is effective at removing fish, but are safe to other birds or mammals that may drink from the stream.

Over the past two summers, nearly 53,000 Colorado River cutthroat trout, raised at the Game and Fish Departmentís Daniel Fish Hatchery, were stocked into LaBarge Creek and its tributaries. "This year we also stocked 5,000 fish at approximately 7 inches and also a few hundred Colorado River cutthroat brood culls," said Sexauer. "We plan to continue stocking fish at various sizes over the next few years based on availability."

The "brood culls" are the mature fish that have been spawned at the hatchery for their eggs over the years and are considerably larger.

"These fish are 3 -4 years old and their condition is slightly deteriorated," added Sexauer. "Though these fish are not in perfect body condition, but they are still healthy, fine to eat and should provide anglers with a good fight."

"We will continue to monitor the fish populations and expect a robust population to build in just a few years," said Sexauer. "We will also reintroduce other native fish, such as mountain suckers and mottled sculpins, if necessary, to complete the system. The goal is to eventually have a self-sustaining, wild population of Colorado River cutthroat trout that won't require any supplemental stocking."

"We knew such a project would be a major undertaking, but with a lot of help we're now seeing the fruits of everyone's labor," said Sexauer. "We couldnít have done it without the help and support from the Forest Service and many others." Other project supporters included the U.S. Fish and Wildlife Service, Oak Brook Chapter of Trout Unlimited, Wyoming State Council of Trout Unlimited, Central Utah Project, Western Native Trout Initiative and National Fish Habitat Initiative.

Photos by Mark Gocke, Wyoming Game & Fish.