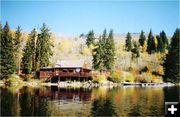 Half Moon Lake Resort

The lodge sits on the shore of Half Moon Lake. It is the only commercial building on the lake.


Supporters need $6-1/2 million to acquire the site, get operating capital, and create an endowment.


Scroll down for more photos.


Half Moon/Burnt Lake Educational Project update
Moving forward - Still seeking funding
by Dawn Ballou, Pinedale Online!
September 7, 2008

Plans to reorganize the Half Moon Lake Resort and Burnt Lake camp into an outdoor education campus through Western Wyoming Community College are still moving forward. The most pressing need is still funding commitments, said Mike Kaul, one of the community members spearheading the effort.

The proposal is to convert the existing Half Moon Lake Resort and Burnt Lake recreational sites into an accredited educational program which will be focused on recreational resources and the study of environmental and natural sciences. The resort has been closed down for several years now with plans to put it up for sale. Locals in the community began efforts to rally support for the concept of converting the facilities to an outdoor educational school.

Programs and courses would include culinary arts, resort management, outdoor recreation, accounting, marketing, personnel management, government regulatory requirements, and environmental sciences. Classess focused on the oil and gas industry and geology have also been suggested. Management and operation of the facility would be under Western Wyoming Community College with support given by Sublette County School District #1 BOCES, the University of Wyoming and other State educational entities. "This shared responsibility guarantees the programs will meet the needs and desires of local, regional and state citizens," Kaul said.

"We have received overwhelming positive comment on it," he said. "The start-up is the big thing. We need about $6-1/2 million to acquire the site, create a bank roll, and put into an endowment. Then we'd look into Phase II to become self-sufficient."

Rather than construct new buildings, the plan is to have as minimal a footprint as possible on the land. "Our program is more green," Kaul said. "We want to make use of the existing facilities and rehab them, recycle if you will, rather than build something brand new that is flashy and fancy."

The curriculum would offer programs for young and adult students to study natural science, the environment, conservation and a wide variety of outdoor recreational activities in a pristine environment. Once the facility is up and running, outside institutions would be invited to come and stage at the facilities for their excursions into the backcountry. "Bring us your scientists and students," Kaul said. "We'll pack you in." Students and faculty at the facility would become the concessionaires, getting hands-on experience acting as hosts dealing with guests. When they complete their programs, they would receive an Associate degree in recreation resource management. Local service businesses would be able to use the school resources for training and recruiting employees.

Kaul said they will be putting together a business plan over the next two months and preparing printed literature to give out that explains the proposal. Anyone who has questions, or would like to offer financial support for the project, can contact Kaul at 307-367-4131 (Two Rivers Emporium in Pinedale), mikekaul@wyoming.com.

Photos courtesy Half Moon Lake Resort.