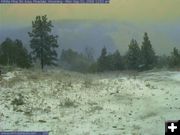 Snow at White Pine

Snow dusts the top of the mountain at White Pine Ski Area and Resort on Labor Day, September 1st. Photo taken by the White Pine top webcam.

First snow of the season
Snow dusts the mountains on Labor Day
September 1, 2008
Heavy showers and isolated thunderstorms have allowed some of the rain to turn to snow as colder air has mixed down from the higher elevations. Snow accumulations across the lower elevations should remain light but nevertheless the first snow of the season is falling. Once the precipitation decreases, the snow will likely change back to a cold rain.

Areas that have reported snow so far include Kemmerer, Fort Bridger, Big Piney, Cora and Pinedale. Other areas will also likely see a brief period of snow into the early afternoon on Monday.

The weather forecast for Labor Day is mostly cloudy with showers and possibly a thunderstorm. The high temperature will be around 54. The rest of the week will get sunny with warming temperatures climbing back into the 60s and 70s.