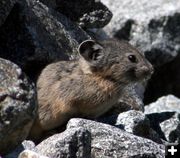 Pika

Pikas live in Boulder fields. Photo courtesy Earthjustice.


Federal protection for pikas?
by Earthjustice
September 10, 2008

Conservation groups have filed a federal lawsuit seeking
protection of the American pika, maintaining that the pika's survival is imperiled by global warming.

The American pika, Ochotona princeps, is a small relative of the rabbit whose squeaky calls are a familiar companion to alpine hikers. Pikas live in boulder fields near mountain peaks in the western United States. Adapted to cold alpine conditions, pikas are intolerant of high temperatures and can die from overheating when exposed to temperatures as low as 80°F for just a few hours.

"The pika is the American West's canary in the coal mine," said Shaye Wolf, a biologist with the Center for Biological Diversity. "As temperatures rise, pika populations at lower elevations are being driven to extinction, pushing pikas further upslope until they have nowhere left to go."

Rising temperatures caused by greenhouse gas pollution have already led to dramatic losses of lower-elevation pika populations. More than a third of documented pika populations in the Great Basin mountains of Nevada and Oregon have gone extinct in the past century as temperatures warm, and those that remain are found an average of 900 feet further upslope. According to climate experts, temperatures in the western United States in this century will increase at least twice as much as they did in the past century. This could eliminate the pika from large regions of the American West.

The federal lawsuit challenges the Fish and Wildlife Service's failure to make a timely initial finding on a separate petition filed by the Center for Biological Diversity in October 2007 to protect the American pika under the federal Endangered Species Act. The Fish & Wildlife Service has not taken any action on this petition even though it was required to issue an initial determination within 90 days of receiving the petition.