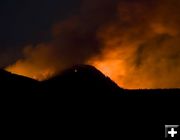 New Fork Fire flairs up

Mostly forgotten, but not gone, the New Fork Fire again showed it is not yet done. The fire again made a run late afternoon and evening on Sunday and provided some dramatic photos from Pinedale. Photo by Dave Bell.


New Fork Fire more active
Smoke column visible again
by Pinedale Online!
August 24, 2008

The New Fork Fire was a bit more active over the weekend, putting out a visible column of smoke Sunday evening, according to Teton Interagency Dispatch Center.

This fire began due to an escaped campfire on July 29th. It is 11,960 acres in size, burning mostly in the Bridger Wilderness. It is 65% contained. The fire has been in monitor status since mid-August and is not expected to be completely out until a "season-ending event" (snowfall).

Fire danger is currently rated as HIGH, according to Teton Dispatch (note, some of the Forest Service fire danger signs around the Forest still show Very High). There are no campfire restrictions in effect; campfires are allowed. The area and trail closure around the New Fork Fire was lifted on August 8th. All trails and trailheads are currently open.