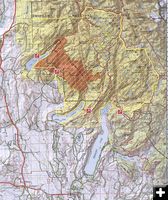 New Fork Fire August 7

Fire boundary and closure map, as of Thursday, August 7. Bridger-Teton National Forest map.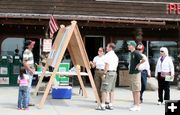 Ridleys Fire Info Station

New Fork Fire Public Information Officer Laura Polant, from Virginia, answers questions at the fire information station set up in front of Ridley's grocery store in Pinedale. The station had current maps and handouts showing the fire perimeter and closure information.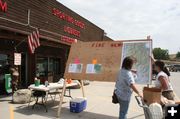 Where is the fire today?

The Forest Service did a great job of getting fire information out in places where people could see current maps and get questions about the fire answered. The special Type 2 Incident Management Team will leave on Saturday and turn management of this fire over to local Forest Service personnel. Here Public Information Officer Laura Polant (right) talks with a shopper at the fire information station in front of Ridley's grocery store.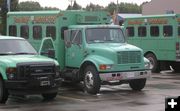 Flagstaff Hotshots

The Flagstaff Hotshots were here helping with the New Fork fire. Photo by Bob Rule, KPIN 101.1 FM.


New Fork Fire 90% Contained, 11,960 Acres
Rain helps firefighters; Changing back to Type 3 managment team
by Pinedale Online!
August 8, 2008

FOREST SERVICE MEDIA RELEASE – Morning Report, Friday, August 8
NEW FORK FIRE UPDATE
Lower temperatures and higher humidities have aided fire suppression activities on the 11, 960 acre New Fork Fire. Over the past 24 hours, the fire area has received up to a half inch of rain and decreased fire behavior. Fire crews will continue to extinguish any hot spots along the fire perimeter today as mop up operations continue.

With the fire 90 percent contained, fire crews are in the process of being released and made available for reassignment. This demobilization of resources will continue over the weekend until the fire is turned back to the local unit on August 9, 2008.

Area closure remains in effect for the following trails and trailheads are closed. TRAILHEADS: New Fork Lake, Long Lake and Spring Creek. TRAILS: Trapper Creek, Glimpse Lake, Pine Creek, Section Corner, Palmer Canyon, Heart Lake, Double Top, Gulf Creek and Snake Lake.

This will be the last report from Whalen's Type 2 Incident Management Team.

Assigned Resources:
Hand Crews - 10
Engines - 7
Helicopters - 3
Overhead - 139
Total Personnel - 422

Click here for a printable PDF of the fire perimeter and Closure boundary map – as of Thursday, August 7: New Fork Fire boundary and Closure map – August 7, 2008 (1,418K PDF)
_______________________________________________

(Comments below are from Pinedale Online!)

Recent rains have helped firefighters in their efforts to fight the New Fork Fire burning northeast of Pinedale. The fire began on Tuesday, July 29, due to an escaped campfire on the southeast shore of New Fork Lake, approximately 19 miles north of Pinedale. As of Friday, August 8, the fire was 90% contained and mapped at 11,960 acres. (size of acreage decreased due to more precise mapping)

The fire is burning primarily in the Bridger Wilderness, fueled by bug-killed trees. It has been putting up very visible columns of smoke, part of which is being created by the intentional back-burns set by firefighters to eliminate fuels in areas to help herd the fire where they want it to go. The fire has moved southeast crossing into the Willow Creek drainage. No structures have been lost. Firefighters put structure protection in place for the Willow Creek Guard Station and Lozier's Box R Ranch as a precautionary measure.

There currently are 422 firefighters on the fire, which is under the management of a Type 2 Team. Fire managers are comfortable enough with the progress of the fire they will be turning management of the fire back to the local Type 3 team soon.

The Forest Service implemented trail and an area closure for the Bridger Wilderness between New Fork Lake and the north side of the Pine Creek drainage, which feeds Fremont Lake. The Highline Trail is still open and provides through-trail passage past the fire. Crews are taking advantage of the weather to continue to construct firelines along the perimeter of the fire.

FIRE INFORMATION CENTERS IN PINEDALE
The Forest Service is posting information about the fire at locations around Pinedale. Information is available at the Pinedale Ranger District Office. They have also set up a highly-visible information station in front of Ridley's grocery store (formerly Faler's) with current maps of the fire, handouts, and people who can answer questions about the current fire status. This fire information station is staffed between 9AM to 8PM daily. Fire personnel are also going around town daily and posting the current maps and information on store windows and at the Sublette County Visitor Center. Temporary signs are posted on Highway 191 at the Soda/Willow Lake road turnoff (by A to Z Hardware) alerting drivers of firefighter vehicle traffic going in and out of that road.

WHERE TO GET MORE INFORMATION ABOUT THE FIRE
There is a new fire information toll-free phone number to call with questions about the fire. This reaches the Incident Command center for the fire, which is now set up near the elk feedground at Soda Lake, just north of Pinedale. For today (Friday) and Saturday, use this number for more information: 1-866-534-9619. As of Sunday, all inquiries should be directed to the Pinedale Ranger District, 307-367-4326.

See the New Fork Fire information page on Inciweb for official updates by the Forest Service about this fire. This site also has photos and current maps of the fire. http://www.inciweb.org/incident/1440

PLEASE AVOID ROADS NEAR THE FIRE
Recreationists are advised that there is still considerable firefighter and emergency vehicle traffic on the access roads near the fire (New Fork Lake, Spring Creek, Willow Creek, Soda Lake areas). While these areas are still open to the public, we encourage people to avoid this area unless they need to be in there. The trailheads at New Fork Lake, Spring Creek, Willow Creek and Long Lake trail are CLOSED. Note, this fire will likely continue to burn and smolder until the snow flies. Fire personnel will be monitoring and patrolling the area as long as it is still at all active.

WHAT IS OPEN
Green River Lakes is OPEN allowing access to the northern Wind River Range and Bridger Wilderness. Elkhart Park trailhead is OPEN allowing access to Photographer's Point and to the central Wind River Range and points south. The Blueberry and Big Sandy fires are out, and there currently are no other fires burning in the Wind River Range.

HOW IS THE SMOKE AROUND BIG SANDY IN THE SOUTHERN WINDS?
We received a report yesterday from someone who just came back from hiking in the Big Sandy area over to the Cirque of the Towers. He said he expected it to be very smoky, but found the skies very clear and he didn't notice a lot of smoke smell.

AIR ALERTS LIFTED
With the recent rains and reduced fire activity creating heavy smoke, Sublette County health officials are lifting the morning Air Health Alerts. "The weather has modulated and the fire has subsided. The air in the AM is much better and I think, barring a relapse, that the AM air alert can be lifted," said J. Thomas Johnston, M.D., Sublette County Health Officer. The county issued the health alerts for people with compromised lung capacity advising them to avoid going outside and breathing the smoky air while inversions caused smoke to hang over Pinedale. The smoke generally cleared out by mid-mornings as winds picked up and the inversion lifted.

KUDOS
Editor's Note: We'd like to give kudos to our local health officials for sending out timely alerts to us, and to local KPIN radio station, so we as media can post these health alert notices to let the public know of these situations that immediately impact community health due to smoky air. We also wish to thank the Forest Service and Sublette County Sheriff's Office for their calls to alert us when there is fast-breaking news or road closures related to rapidly-changing conditions due to wildfires. And lastly, we wish to thank our readers who have sent in their great photos that show the various angles of the fire and information they are aware of from their vantage points. (These photos can be found in our Pinedale Online news archives in the July and August 2008 months. If anyone is interested in getting a reprint of Chris Havener's great "Firestorm" night photo with the fire reflection in New Fork Lake, we have a high-resolution version of this picture and can do glossy 8x10 reprints at Office Outlet in Pinedale. support@pinedaleonline.com) Thank you, all!