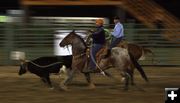 Team Roping

Over 500 teams registered for the Lance Koppenhafer Championship Roping on Friday. Photo by Pam McCulloch.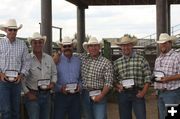 Winners

Left to Right: Chad Espenscheid, Rod Rasmussen, Mark Fear, Scott Rogers, Powder Tyrell and Jason Wheeldon. Photo courtesy Carolyn Bing, Cowboy Shop.



Scroll down for more photos.


Lance Koppenhafer Championship & Cowboy Shop Classic
by Pam McCulloch
August 28, 2008

The Cowboy Shop Classic roping was held on Sunday, August 24th at the Pinedale Rodeo Grounds. The special Lance Koppenhafer Championship was held on Friday night, August 22nd. The annual event is open to Sublette County and LaBarge, Wyoming residents only, or by special invitation. Ninety-nine ropers attended. Saddles, buckles and monetary prizes were awarded to the winners.

Go Round Results:
1 Scott Rogers and Rick Overstreet (6.78)
2 Scott Rogers and Powder Tyrell (6.53)
3 Shane Thompson and John Hintz (6.88)
4 Dru Roberts and Wes Miller (6.55)
5 Annie Espenscheid and Charlie Putnam (6.66)
6 Scott Rogers and Brian Espenscheid (6.83)

Saddle Winners:
Header Scott Rogers: 42.70 on 5 head
Heeler Tom Frank: 90.81 on 6 head

Buckle and Money winners:
Fast time Scott Rogers and Powder Tyrell (6.53)
3rd Chad Espenscheid: 49.25 on 5 head
4th Rod Rasmussen: 55.75 on 5 head
5th Jason Wheeldon: 59.52 on 5 head
6th Mark Fear: 60.25 on 5 head

Money winners:
7th Annie Espenscheid: 62.64 on 5 head
8th Mack Bradley: 69.58 on 5 head

Calcutta Winners:
1st Header: Scott Rogers, Heeler: Scott Rogers
2nd Header: Annie Espenschied, Heeler: Annie Espenscheid

Sponsors:
Cowboy Shop, Buckyís Outdoors, Sublette County Feed, RIO Inc, Longhorn Trucking, A to Z Hardware, Aspen Storage, Cowboy Bar, First Bank, First State Bank of Pinedale, Green River Log Homes, High Mountain Real Estate, Jensen Angus, Pinedale Chiropractic Center, Stockmanís, Sublette Examiner, Tegeler and Associates.

Special Thanks:
Special thanks to Mary Ann Almquist, Brian & Annie Espenscheid, Jodi & John Fear, Tawny Roberts, Barbara
Kitchen.

Photos by Pam McCulloch, and courtesy Carolyn Bing-Cowboy Shop.