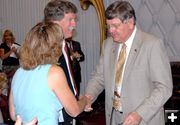 Joanne tapped

Jeff Fuller and Joanne Garnett are greeted by Governor Dave Freudenthal.


Garnett to assist statewide planning
Joanne Garnett of Pinedale
by Cat Urbigkit, Pinedale Online!
August 11, 2008

Pinedale's Joanne Garnett has been tapped to serve as second in command of a statewide planning effort. Wyoming Governor Dave Freudenthal made the announcement at a planning convention this week.

Here's the press release from the Governor's office:

Communities in Wyoming have the power to determine the
future of the state as it grapples with the challenges of
growth and development, Gov. Dave Freudenthal said in a
thought-provoking speech Friday morning to a conference of planners from the Western region convened in Cheyenne.

In his address, the Governor announced the leader of a new statewide organization that will follow up on ideas and recommendations developed at the "Building the Wyoming We Want" conference. The forum held in January 2008 in Casper drew more than 500 people to a discussion focused on how to preserve the Wyoming that residents love while also preparing for the changes associated with growth and development.

"I know that a lot of people have been wondering what we've been doing since January," the Governor said. "It took some time to find the right person with the right understanding of the state and the right attitude about how this could be done."

Torrington native Jeff Fuller of the Sheridan firm HKM Engineering has been tapped to oversee the non-profit organization. He brings decades of experience in the planning, design, engineering and construction of infrastructure in all 23 counties in Wyoming.

"This is about a conversation about the state's future, it is not about the state imposing some kind of a plan from the state level," the Governor said. "It is about empowering the local communities and the local citizens to utilize the tools that are at their disposal and to make them aware of those tools. It is not simply a planning exercise – it is, at the end of the day, an exercise about the implementation and the employment of foresight."

In 1908, President Theodore Roosevelt convened governors from around the nation to Washington D.C. to talk about how to make wise use of the nation's natural resources while still preserving the natural beauty of the United States, and in particular, the wild character of his beloved West.

"One of the things that Roosevelt said was that one distinguishing characteristic of really civilized men is foresight, which means you are looking forward. It doesn't mean you aren't aware of the past, it means you are looking forward," Freudenthal said. "What we have to do is to get people to think about what comes next as opposed to thinking about their fears with regard to the future."

The Governor said Wyoming is fundamentally changing as a result of increasing rural housing development, energy development and evolving views on land use.

"The state has changed in both its treatment of land and its treatment of how we are developing that land," Freudenthal said. "Some of that is related to mineral growth and the availability of water, and some of it is simply related to the fact that the Western United States is going to be the fastest growing region in the United States - probably until 2030. In 2030, I'll be 80 years old. And if in 2030, I hope I'm around, I want to be able to look at my kids and say we did it right."

One problem with earlier statewide planning efforts in Wyoming was that they jumped too fast to the "end game," Freudenthal said, without allowing the process to work itself to its own conclusions.

"If you start this assuming an outcome, you're being dishonest," he said. "What we are assuming is a capacity to create a process whose outcome is not entirely foreseen today. For us to make this work in Wyoming, what we need to do is create an appetite for a discussion that will generate a vision that will allow us to impact on local decisions. If we start out with the proposition that we know where we want to end up, I think we're being disingenuous to people because we're saying 'We want to talk to you about the Wyoming that Dave Freudenthal wants, not the Wyoming that we want.'"

In order for the process to be effective, it must tap into the universal concern that people have for their children and their grandchildren, the Governor said.

"I've seen people who will make sacrifices on behalf of their next generation that they will not do for themselves," he said. "If we can combine that perspective of the older generation with the younger generation's expectations about being wealth creators, as opposed to wealth preservers, I think we'll have the alliance that allows us to talk seriously about shaping the future and we'll translate that foresight into implementation."

Fuller said he looks forward to getting started. "I'm humbled to be chosen for this opportunity, and am ecstatic at its possibilities," he said. "We are all blessed to live in Wyoming and I think this organization has incredible potential to work with the people of this state to blend their visions of the Wyoming they desire for their grandchildren with the best science available today."

Fuller's wide-ranging experience as a planner and an engineer includes:
• The planning and construction of a regional municipal water supply system from Cody to Lovell.
• Roadway planning design and construction in Gillette and Campbell County.
• Bike path planning design and construction in Laramie and Rails to Trails corridor enhancements in the Medicine Bow National Forest west of Laramie.
• Dam enlargement on Sulphur Creek in Uinta County south of Evanston.
• Basin water planning in the Powder/Tongue and Northeast Wyoming drainages.
• Structural design of renovations to the College of Engineering and the College of Agriculture at the University of Wyoming.

Joanne Garnett of Pinedale will join Fuller as assistant director of the public-private partnership, and two other staff members will be added soon for administrative support and public relations.

Freudenthal said he's committed to the organization not being entirely dependent on government funding and said seed funding will come from the Wyoming Community Development Authority, the Governor's Office and the employers of Fuller and Garnett who have essentially donated their time to the state while the two are engaged in this effort. Freudenthal estimated the budget for the organization at about $1 million and said he would commit to raising private funding so that the staff can begin their work.

"I'm willing to seed it, to get it started, and other people are willing to help with that," Freudenthal said. "But in the long run, for it to work, it cannot be totally dependent on the governmental funding process. That means we have to encourage participation from the private sector so that it is not viewed as just another planning exercise."

In the months since the "Building the Wyoming We Want" conference in January, the basic framework of the non-profit was formed and a tool kit of planning resources was developed that will be housed and maintained at the Wyoming Community Development Authority.

Starting this month, Fuller and Garnett will begin a series of small gatherings across the state with local and state staff, private individuals and elected officials to discuss how citizens think the state can welcome growth and prosperity while still protecting the things and places that make Wyoming special. They also plan to meet with the staff of Envision Utah, a smart growth effort that has made significant strides in that state.

"We hope to gather as much public input as we can and have frank discussions with people across the state about what they want Wyoming to look like going forward," Fuller said.