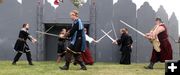 Sword Fight

King John is action packed with several sword fights.


Shakespeare in the Park
by Pam McCulloch
July 21, 2008

King John by William Shakespeare was presented by Wyoming Shakespeare Festival Company. The group performed in American Legion Park on Sunday, July 20th. The performance was presented by the Pinedale Fine Arts with support from the Town of Pinedale, Sublette County Recreation Board, Wyoming Arts Council, and the National Endowment for the Arts.




Related Links