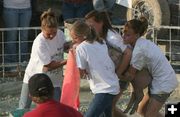 Heavenly Hogs

The "Heavenly Hogs" made fast work of grabbing their pig, hanging on, and putting him in the barrel. They won 1st place in the Junior Division in just under 30 seconds.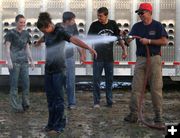 Hose Off

Big Piney Volunteer Fireman John Ball hoses off the "Bacon Buster" team after Pig Wrestling.



Scroll down for more photos.


Pig Wrestling and Greased Pig Contest
Sublette County Fair
by Dawn Ballou, Pinedale Online!
July 29, 2008

Two of the fun events for kids at the Sublette County Fair are the Pig Wrestling and the Greased Pig Contest.

GREASED PIG CONTEST
Kids who enter the Greased Pig Contest are making a commitment, if they catch a pig, to take care of it for the next year. Entrants are limited to residents of Sublette County School Districts #1 and #9. Winners must join 4-H or FFA and show their pig at the 2009 Sublette County Fair. Winners receive their pigs in the spring of 2009.

WINNERS:
Ages 8-9:
Shilo Thayne
Colt Ramsey

Ages 10-11:
Sarah David
Tyler Owens

Ages 12 and up:
Dillon Thomas
Heather Grossman

Pigs for the Greased Pig Contest were donated by Randy Belton/Julie's Child Care, Reed's Ready Mix, Charlie & Cindy Mitchell, Bridger Speed & Sports, Rio Verde Engineering, and Gene & April Lippincott/Daniel Junction.

PIG WRESTLING
In the Double D Pig Wrestling, teams have one minute to catch their pig and place it into the barrel in the middle of the pen. The catch is the "pen" is filled with slippery clay mud and the pig is smeared with the same slippery substance, so it is a challenge to catch the squeeling porkers.

There are categories for kids 8 and Under, Youth age 9-15, Women and Men. Pigs are sized for the contestants. Little kids chase piglets. Big burly guys get large hogs to wrestle. Each team can have up to four people. Prize is a jackpot of the entry fees plus Calcutta earnings. There is also a prize for the team with the best costume.

WINNERS:
PeeWees:
1st: War Pigs: Levi McAdams, Jake Pape, Tristan Barney, Max McGinnis
2nd: Bacon Eaters: Kaylee Day, JT Day, Kimee Green, Teagan Elliott

Youth:
1st: Heavenly Hogs: Jenny Beiermann, Kolby Brown, Shelby Brown, MJ Schmidt
2nd: Renegades: Cody Jensen, Cassidy Jensen, Ethan Wolaver, Erika Wolaver
3rd: Country Boys: Dillon Thomas, Jeptha Richie, Anthony Escobar, JW Jensen

Adult:
1st: Bacon Busters: Logan Pape, Shanna Corwin, Zach Egle, Abe Pearce

Announcer/Auctioneer for the event was Gary Nash. The Big Piney Fire Department hosed down competitors after they were done playing in the mud. Badger Daylighting assisted with cleanup.

Photos by Dawn Ballou, Pinedale Online! For more photos from this year's Fair, see Tara Bolgiano's BlushingCrow.com website.




Related Links