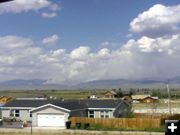 Fire at 3PM Wednesday

View of the New Fork fire around 3:00 PM on Wednesday, from the front porch of Cade Galley's home at the Cora Y.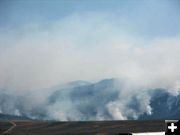 Fire on Wednesday

New Fork Lakes Fire on Wednesday morning around 11AM. Photo by Karen Rozzell.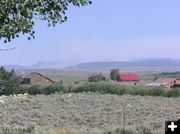 New Fork Lakes Fire

The New Fork Lakes Fire was much more subdued Wednesday morning. View from Pinedale, looking north at the fire. Photo by Bob Rule, KPIN 101.1 FM.


New Fork Lakes Fire is Human Caused
Fire at 2,000 acres
by Bridger-Teton National Forest
July 30, 2008

(Pinedale, Wyo) – The New Fork Lakes Fire was discovered Tuesday, July 29, 2008 at approximately 1:00pm. Fire Investigators for the Forest have determined that the fire was caused by an escaped campfire. Further investigation is still planned for today.

The fire is 2000 acres and continues to burn beetle-killed trees approximately 19-miles north of the town of Pinedale, Wyoming. There are no road or trail closures associated with this fire. Firefighters have established the incident command post at the Boy Scout Camp near New Fork Lakes.

Fire Officials do not have an estimate for when this fire will be contained. Firefighters are working to keep the fire moving into the wilderness area and confining it away from any private land. The weather forecast for today calls for western winds which will continue moving the fire into the Bridger Wilderness area.

"Fuels and grasses are certainly drying out," said Fire Management Office Rod Dykehouse. "The projected warm weather and lack of moisture is something we have been watching and will consider in our conversations about whether or not to move the Forest fire danger to "very high"," he said. The current fire danger for the Forest is High.

For more information on this fire, visit http://www.inciweb.org/incident/1440/
____________________________________

Editor's Note: Special thank you to Karen Rozzell, Cade Galley and Bob Rule for sending in photos of the fire.